Two Skin Products That Don't Fall Under the "Less Is More" Rule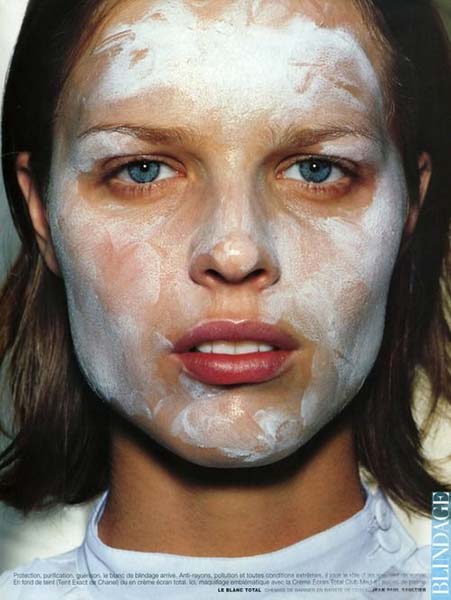 Eva Herzigova shot by Mario Testino for Vogue Paris April 1998
Have you ever heard the saying, "less is more?" I'm sure you have. My mom would constantly remind me of that whenever I put on makeup as a teenager. (I had a tendency of caking it on like my life depended on it.) When it comes to makeup, "less is more" has been etched into our brains for years, especially now that the no-makeup makeup look is trending. But what about skincare? Should we be slathering on all of our moisturizers, masks, eye treatments and body lotion with heavy handed abandon? If you asked me that question two weeks ago, I'd say hell yes! The more skin-perfecting ingredients and antioxidants the better, right? Wrong. Less is more stays true whether you're talking about makeup or skincare. But, according to
Neal Schultz
, New York City dermatologist and founder of
BeautyRx skincare
, there are two types of skincare products that really do work better when applied thicker.
1. Antibiotic ointments: Dr. Schultz says, "When you have a cut or scratch, you'll want to glop it on because it's keeping the area completely hydrated by preventing the normal tissue fluids from evaporating. That makes it heal better and faster. When those tissue fluids evaporate, that's what causes a dry scab. Scabs are bad. Thirty years ago we said let it dry out to the air. Now, never! Moist healing is much better than dry healing."
2. Traditional, chemical-based sunscreens: "The reason they fail is because most people don't put enough on," he says of non-mineral sunscreens (those with active ingredients like oxybenzone, avobenzone or homosalate). "And when you don't put enough on, the SPF becomes the square root of the SPF. So a 50 becomes a 7, and a 30 becomes a 5.5. " 
So there you have it. Unless you're applying antibiotic ointments or carbon-based sunscreens, less is more. Just think about how much money you'll save from not wasting all that luxury skincare in your medicine cabinet. Cha-ching! 
Keywords
Get the latest beauty news and inspiration!
Sign up for our newsletter to receive the latest from Beauty Blitz delivered straight to your inbox.