Model Lindsay Ellingson: Runway Ankle Sprains & Tanning in Skivvies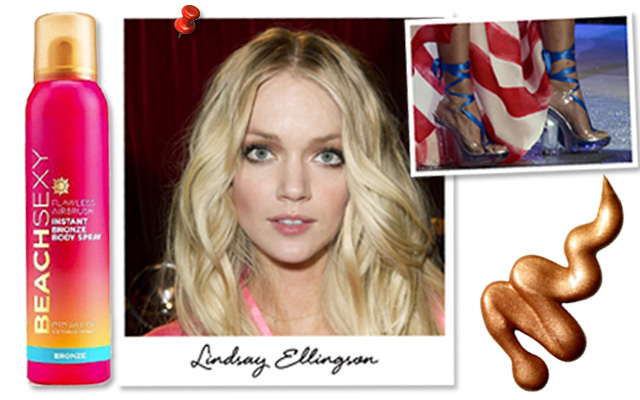 We caught up with 26-year-old California native Lindsay Ellingson before the Victoria's Secret runway show to find out if what happens backstage stays backstage.
"This is my sixth Victoria's Secret show. Each year, it somehow gets bigger and better. I heard when they first started in 1995, there were no performers, just the girls in simple lingerie. And now artists are begging to be in the show 'cause it's the biggest deal, like the lingerie event of the century. 
Last night, I scrubbed my whole body with an exfoliant. It's important on the runway to glow, because we're supposed to look angelic. And this morning, there's an area where we get spray tanned, and I went right away back there. I got a whole body tan. They're using
Victoria's Secret spray
. You can be completely naked if you want. I keep my underwear on 'cause it's pretty small anyways. You just get a whole rubdown with the tinted
Very Sexy moisturizer
. It has a hint of shimmer, I have it on right now and it just gives you that subtle glow like you've just been on the beach or something.
We had a practice last night. But I have to say that this year our shoes are more difficult than ever 'cause they're huge platforms and the bottom of it is only like this big so you really have to keep your ankles locked. And it's important not to let your ankles wobble. One girl fell, so she's icing her ankle right now. But that's why we do rehearsal. I mean, I'm sure she'll be OK to walk in the show but...I mean, even if I had a sprained ankle, I would still walk in the Victoria's Secret show."
Keywords
Get the latest beauty news and inspiration!
Sign up for our newsletter to receive the latest from Beauty Blitz delivered straight to your inbox.