Mary Alice Stephenson Talks Nail Color Trends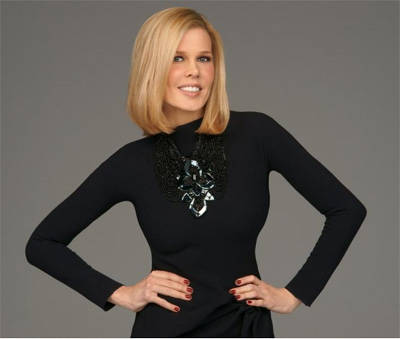 Sally Hansen is literally the number one seller in the nail category. With recent launches like Salon Effects and last year's Complete Salon Manicure, it's pretty obvious why. There are many factors that make a good nail product, but color is definitely at the top. Sally Hansen has created colors with designers like Prabal Gurung and Tracy Reese, and now Mary Alice Stephenson is Sally Hansen's own Style Advisor. Mary Alice got down to the nitty gritty of color and nails, giving us plenty of inspiration.
Nails shades seem to come in literally every color, but are there hues to stay away from?
In my style book, there are never any colors to stay away from. If there's one place to play with color it's on your nails! Express your creative side with strong, sophisticated colors. Break your beauty rules and have fun. Statement nails are every It girl's most important fall must-have!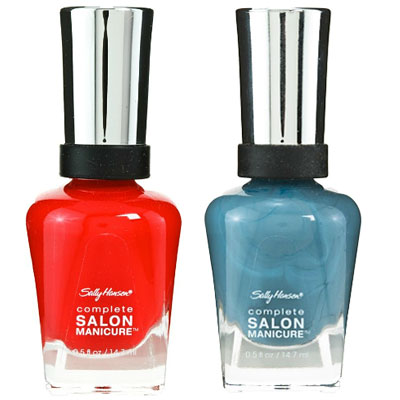 For fall, choose colors that can take you from day to night and give a glamourous touch to everything you wear. Whether deep plums, ruby reds such as Sally Hansen Complete Salon Manicure in All Fired Up and charcoal grays such as Sally Hansen Complete Salon Manicure in Gray by Gray, these colors will keep your nails chic, fashion forward and work well with all the jewel tones in this seasons fall collections
 
Are neon shades still in? What clothes would be best paired with glowing fingertips?
Neon shades are a hot beauty trend that you can incorporate into your life winter, spring, summer or fall. Glowing nails are a fun, fierce, fashionable way to add a pop of color to your look.  Neon is a playful color twist to all the prints you wear and gives a bright feminine touch to your menswear inspired outfits.  Nothing brings dark denim, crisp khaki or winter white to life like a splash of hot pink on your nails or vibrant orange on your tips. Anyone can work an outrageous hue, the key is confidence.
 
How can you keep nail art look trendy as opposed to wacky?
Don't get too matchy matchy, mix it up! Tacky is a striped nail with striped clothing or leopard nails with leopard clothing. When it comes to outrageous prints on your nails it is best to not mirror them with similar patterns in your outfit. I love to keep my nails cool with a reverse manicure. Mix my favorite Sally Hansen Complete Salon Manicure in Plums the Word with Sally Hansen Complete Salon Manicure in Navy Baby giving a twist to the classic French. Be bold by wearing stripes but add an unexpected twist by painting on thick horizontal stripes, or adding diagonal tips to take your polish to the next level. Take inspiration directly from the runway and rock a deep navy with bright teal. Or be subtly sexy by mixing Sally Hansen Complete Salon Manicure shades in Commander in Chic with Black Platinum. And you can turn flat into fab with the stroke of a brush by adding Sally Hansen Crackle Overcoat to any mani or pedi.
 
What are some hot mani/pedi combos?
Color gone mad! Break your color rules: Mix yellow with turquoise, blue with browns and remember orange goes with everything! Get glam from head to toe by wearing a bold pattern on your toes.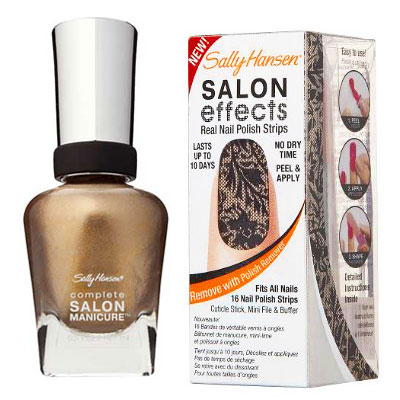 My favorite is Sally Hansen Complete Salon Manicure in Guilty Pleasure on your fingertips with Sally Hansen Salon Effects in Laced Up on your toes.
 
What are the hottest nail trends you're seeing for summer? What about for fall?  
Coordination Nation! Red, plum or pink, match your lips to your nails. But if matching makes you weary, be cool by keeping in the different shades of the same hues and wear a red lip with Sally Hansen Complete Salon Manicure in Plum Luck.  For an instant flash of fab trying adding a bold contrast color to all those hues on just one nail. Ombre is no longer reserved for your favorite sweater or maxi dress; fashionable females are wearing their favorite color in every shade. Go from dark to light with pretty pinks, bright blues and graphic greens.
Keywords
Get the latest beauty news and inspiration!
Sign up for our newsletter to receive the latest from Beauty Blitz delivered straight to your inbox.