DIY Time! Try This V-Gap Manicure With Neon Polish
We're partnering with some of our favorite nail bloggers to bring you a summer's worth of easy, entry-level designs - minimal skills required! This week, Rie from Nails and Noms creates a V-gap manicure using bold neon shades and Scotch tape. (If you'd like to see your nail art designs featured on Beauty Blitz, drop us a line at info@beautyblitz.com.)
Hey everyone, Rie from Nails and Noms here! Summer's right around the corner and it's all about bright colors and bold nails! This year neon polishes are making a comeback and already three nail polish brands that I know of have collections coming out that feature these bright polishes: Essie's Poppy Razzi Collection, Orly's Feel The Vibe Collection, and China Glazes's Summer Neons. Today I'll be showing you a tutorial for creating a simple summer ready V-Gap manicure using some hot neon shades from Orly's Feel The Vibe Collection!
What You'll Need
2-3 neon polishes in different colors (I used Skinny Dip, Melt Your Popsicle and Beach Cruiser by Orly)
Scotch Tape
Base Coat and Top Coat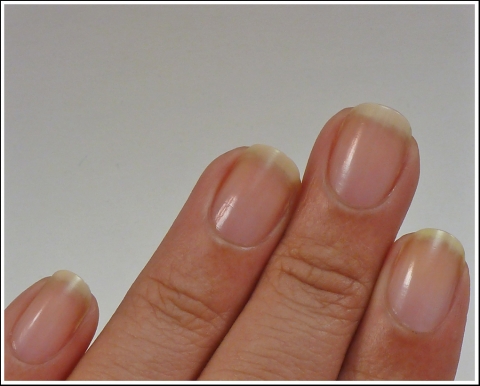 Step 1
Start with unpolished nails that are free of any debris, then add your favorite base coat.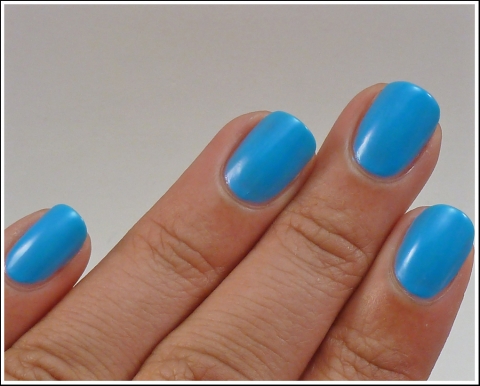 Step 2
Add 2-3 coats of Orly Skinny Dip and let it dry completely. If you're impatient, you can add a thin coat of top coat at this step to help the polish dry faster.
Step 3
Tear off two small sections of scotch tape and apply them in a criss-cross pattern on your nail to form the V-shape. Depending on the placement of the tape you can make the V-Gap at the free-edge or the base of your nail. Where you want it is up to you. Repeat this step for each nail, doing one hand at a time.
Tip: Stick the tape to the palm of your hand a few times before applying it to your nail to get rid of some of the adhesive. If the tape it too sticky it may accidentally remove some of your base polish.
Step 4
Using your second color, paint the portion of your nail that isn't covered with the tape. While the polish is still wet, carefully remove your tape barriers. Repeat this step for your other 4 fingers. I alternated between Orly Melt Your Popsicle and Orly Beach Cruiser.
Step 5
This is what you should end up with after removing the tape. I'm showing you examples of what the V-Gap looks like depending on where you place your tape. Make sure you let your nails dry for 4-5 minutes before moving on to the next step. If you got any nail polish on your fingers or in your cuticles you can carefully remove it with an angled eyeliner brush or cotton swab dipped in nail polish remover.
Step 6
Add your favorite top coat to seal the design and soften the edges created by the tape, then let your nails dry completely. And now you've got a finished V-Gap manicure!
And there you have it, two variations of the chic V-Gap manicure using neon nail polishes. The lines may not always be perfect on your first try but with practice you'll get better! Are you planning on sporting some hot neons this summer? 
Get the latest beauty news and inspiration!
Sign up for our newsletter to receive the latest from Beauty Blitz delivered straight to your inbox.