Can Dudes Get Away with Casual Makeup?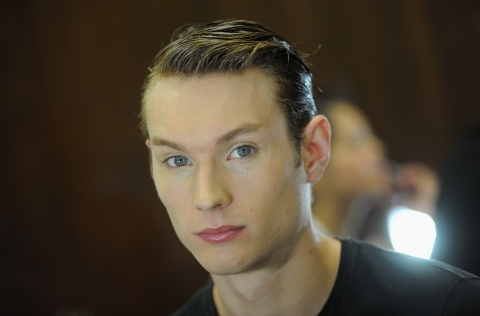 I remember my first man-makeup enounter like it was yesterday. My college boyfriend's roommate always had his grooming act down, but I never (not once) suspected that the cosmetics counter had something to do with it.
Let's call him Jim. Jim's hair was in place. His nails were clean and filed. His room smelled like faint cologne when Jim left for class. He knew how to demi-spritz, instead of dousing himself with scent. He rarely had scruff or bags under his eyes, even during Columbia's notorious "Hell Week" around exam time. 
So here's how it all went down. One day, I entered the room while Jim was getting ready and caught him beige-handed. He was holding a bottle of foundation. And there was a tube of tinted treatment concealer on the side of the sink. The concealer could been seen as skincare. It has treatment benefits. I could let that one slide. But real makeup? I just couldn't imagine this macho fraternity guy perusing the cosmetics floor at Bloomingdale's to find his shade.
While I don't want to see my husband's pimples, I also wouldn't want to tell him he's not blended. 
This was different from the way Goth guys used makeup in an overt, designed-to-be-seen way. Jim was practicing the art of skin-perfecting and blending like a girl.
When I saw this beautiful male model at Joseph Abboud's Spring 2013 collection, it made me think of Jim. This model had a bit more going on in the makeup department, but the overall effecr was subtle. A sheer wash of shiny gloss, velvety foundation, barely noticeable concealer, scultped brows. It all adds up to a look that would take your breath away on a female model. And on a male model, it stops me in my tracks, even though it's just as appealing.
So I turn to you, dear readers, to help me answer this question. Can guys get away with wearing makeup? And how much is too much?
Keywords
Get the latest beauty news and inspiration!
Sign up for our newsletter to receive the latest from Beauty Blitz delivered straight to your inbox.