Actors Who do Their Own Makeup and Other Beauty Lessons from Broadway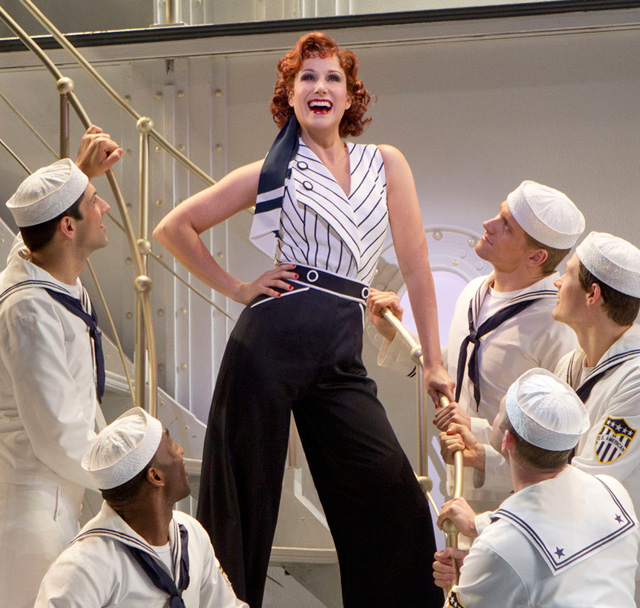 Producing a Broadway musical requires talent - and a lot of it. Beside the obvious acting, singing and dancing, there's also the designing and cheographing of the the beauty look. We sat down with the makeup designer of Anything Goes, Angelina Avallone, who gave us an inside look at how the glamorous stage makeup is created using MAC Cosmetics.
Designing the Look
Since Anything Goes is set in the 1930's, the hair, makeup and costumes all have to reflect the style of the era. "We looked at a lot of research - movies, photographs, we went back to photo archives," Angelina explained. "The look is very thin, arched eyebrows, very clean makeup, very thin, slightly elongated black eyeliner, red lips, peachy pink blush, and every single girl has a little sheen on the cheekbone for porcelain-looking skin."
After establishing the general look of the 1930's, Angelina went through the script with the director and costume and wig designers. "We go through the plot, each act, different scenes, and we go through every scene to see make sure where the quick changes are," she said. "We need to know who's wearing what, what each look is for each character, and if any people are playing multiple characters. Some ensemble members play several different characters. Sometimes they start out as a blonde and then they're a brunette, and then they play an old lady and then they're a passenger, so we have to establish all these makeup looks. She changes wigs, she changes costumes, we age her, and then she goes back to being young. This is the job of the makeup designer and the makeup artist - to establish the makeup looks and figure out how much time she has to change into this other character and how she can transform in two minutes."
Custom Colors
The next step in the process is to create each actor's indivudual look. "Each actor gets their personalized foundation, concealer and blush," Angelina said. "The look is unified and everybody looks of the period, but we slightly customize the look." Angelina has been with Anything Goes for every new cast member and every understudy and swing (someone who understudies multiple roles), and she has had a hand in creating each actor's unique look. "There are two girls covering the part of Reno Sweeney, so we go back and design a look for each of them, because every actor has individual features. Oftentimes I'll change the shade or the shape, or maybe warm up the skintone or highlight, or use corrective makeup."
While each actor gets a personalized look, there are certain products that Angelina loves. "We use a lot of
MAC pigments
to create that really subtle, beautiful irridescent highlight," she said. Another popular product is the
MAC Eye Kohl in Fascinating
, a bright white liner, which is used to line the inner lids of all the actors. "It opens up the eyes, makes them bigger, brighter, and more sparkly on stage," she said. "We also use
Fluidline
on everybody and lashes - individual lashes on some and number
7 lashes
on others."
Teaching the Actors
Believe it or not, all the actors do their own stage makeup themselves - for every show and every makeup and character change. "We have actors, but they're not makeup artists, so we have to teach them how to do this very stylized, beautiful, perfect makeup. Theres a lot of teaching that goes into designing for broadway, because ultimately we have to pass on the information to the actors and empower them to do the best job possible."
A typical Broadway cast has around 35 cast members, so the makeup designer has to teach each actor all of his or her looks during the techincal and preview periods. 
"We set the actors up - they have their makeup bag with all their colors, they have their kit," Angelina said. "They get a makeup chart with a drawing. We create the look; we have a lesson; we try the wig on. If we're satisfied with the design, we take photographs - from the front, eyes closed, from the side, details. Then we organize the look in a book that's called the Makeup Bible, and everyone gets a copy of their look, so each actor has a chart, photographs, notes, makeup kit and then for each look they have charts, photographs and a separate makeup kits and little touch up bags."
Angelina and her team works with the actors throughout the technical and preview phases to ensure they're comfortable and capable of recreating the specific makeup looks. She also has to consider what's possible throughout the show, when actors have to make costume, wig and makeup changes, so it's a learning process for everyone.
High Performance Makeup
It's no surprise that singing, dancing and sweating requires product that's up to the challenge. "There are six to seven makeup changes in one show, so its all about layering, layering, taking off, and then layering and layering," Angelina explained. "I have to be conscious of how this makeup is being layered and what product marries with what products, because not all things are compatible." Some of her favorites include
Zoom Waterfast Lash Mascara
,
Hey Sailor! Bronzing Powder
,
Studio Fix Fluid SPF 15
,
Studio Powder Plus Foundation
,
Studio Finish SPF 35 Concealer
, and
Pro Longwear Lipcolour in Lasting Lust
for that glamourous red lip.
Keywords
Get the latest beauty news and inspiration!
Sign up for our newsletter to receive the latest from Beauty Blitz delivered straight to your inbox.