A Better Way to Make Your Makeup Last All Day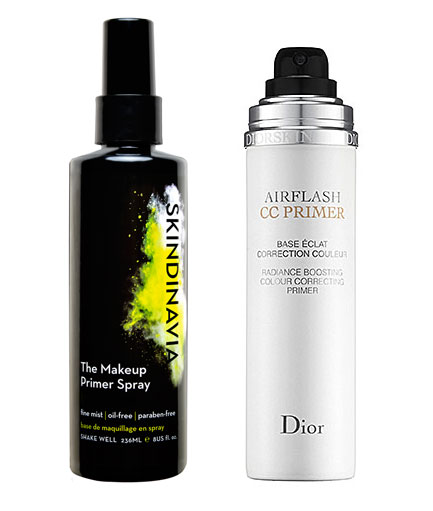 Most silicone-based makeup primers — you know, the ones that feel like slippery silk and promise to blur imperfections — actually tend to make my makeup slide off faster in the summer. There's something about adding an extra layer of product that doesn't agree with my oily complexion, so I tend to stick with a one-and-done BB cream instead of a moisturizer/primer/SPF/foundation clusterf*ck.
But I've recently discovered a new(ish) complexion category that's gotten me to add an extra step to my routine: primer sprays. Unlike gel or lotion primers, these mists are so lightweight that heat and humidity don't faze them. They have an almost magical ability to make my skin's texture look more even and poreless, while they extend the battery life of my BB cream.
Skindinavia, the brand known for its awesome range of makeup setting sprays, just launched its first-ever
The Makeup Primer Spray
($35-$49), an oil-free, silicone-free mist that goes on before your foundation. When I tried it, the spray made my skin's surface look smoother and helped control shine — I didn't find myself rushing to my blotting paper stash come mid-afternoon, like usual. It comes in regular and Oil-Control formulas.
Meanwhile, Dior has a similar product called
Airflash CC Primer
($49), which has the sheerest hint of tint and light-reflecting illuminator that corrected some of the redness in my skin right off the bat. It also works wonders for smoother skin texture (what pores?) and shine control.
With summer on its way, I'm planning to stash both of these mists in my refrigerator so I can treat my skin to a cool blast before putting on my face. Makeup artists have told me they do the same thing with cold water to reduce puffiness, so I figure since I'm priming at the same time, I'm actually saving myself a step — right?
Keywords
Get the latest beauty news and inspiration!
Sign up for our newsletter to receive the latest from Beauty Blitz delivered straight to your inbox.