Ladurée Lights Up the Beauty Scene With Candles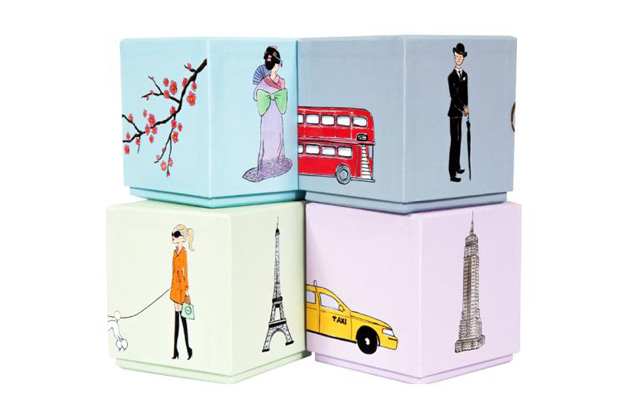 I remember my first macaron like it was hier. It was 2001, and I was assistant to the beauty director at InStyle. Part of my job required being her personal Vanna White. She'd call me into her office from my nearby cubicle by saying, "Vanna, want to open mail?" We used the term "mail" loosely. What mail really meant in our world was dozens of boxes and shopping bags containing products from beauty companies. I cherished these meetings and her generous manner of explaining why this launch failed, how that brand should redirect or when I needed to get my roots done.
So one day, while opening up her deliveries, she shrieked with glee. A publicist had carried a small green paper box on her lap the whole way back from Paris. Ladurée rose macarons personally imported so that my boss (and Vanna) could devour them with rabid fervor. This genre of sweet, flaky, melt-in-your-mouth confection did me in.
Ever since that day 11 years ago, I've made similar aggressive moves to secure a macaron. In 2010, I had my husband hold a plane at Charles de Gaule airport in Paris so that I could wait in the long line at Ladurée's kiosk. When I learned that Ladurée was opening on Madison Avenue, I projectile drooled. There were oral fireworks. (Has that ever happened to you?)
So now, in honor of the brand's 150th anniversary, Ladurée has created four scented candles, each a reflection of one of their flagship shops. And I must pay homage, even if they're not edible. Feast your other sense on these fine flavors.
Ladurée's Four Lucky Charms Collection
Paris (bottom left)
A tuberose candle described as "the scent of a femme fatale, disconcerting and unforgettable."
Tokyo (top left)
A subtle tea fragrance meant to combine "refinement and the mysterious Japanese touch."
London (top right)
A leather-and-eax scent created to evoke the notion of "an English club, twilight and a majectic Chesterfield sofa."
New York (bottom right)
A strong note of apple as an homage to New Yorkers who "have an insatiable appetite for life."
Ladurée Lucky Charms candles, $69 each; available November 19 at Ladurée locations
Keywords
Get the latest beauty news and inspiration!
Sign up for our newsletter to receive the latest from Beauty Blitz delivered straight to your inbox.