A La Mer Facial Treatment for Under $100? Yes, This is Real Life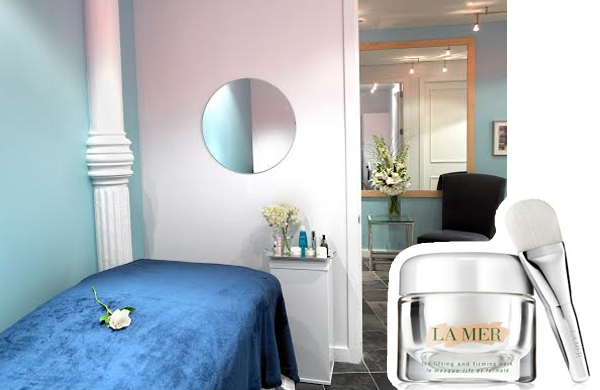 At $230 a jar, La Mer's new
Lifting and Firming Mask
is not easily accessible to everyone – totally understandable. But now there's a way to experience the luxurious tightening and refining product by way of a relaxing all-La Mer facial for under $100. From now until June 30th, Bluemercury is offering a luxe, 50-minute La Mer Sculpting Facial which highlights the new mask and utilizes all of the brand's amazing products. At just $95 (including extractions), it's a no brainer. You get the benefits of La Mer's famous Miracle Broth, the concentrated elixir made from regenerating sea kelp which is found in all of the brand's products, without having to shell out the mega bucks for an entire La Mer regimen. 
Aside from using all La Mer-products, the Sculpting Facial is very much like other facials I've experienced. The esthetician washed my skin with
Cleansing Lotion
followed by a hydrating layer of
Tonic
. She then exfoliated my skin with the
Refining Facial
, a physical, cream-based exfoliant made with micro-pulverized diamonds (fancy, huh?). The exfoliant was super gentle but packed a lot of punch. It made for a painless extraction session that I was very thankful for. 
Then it came time for the Lifting and Firming Mask. The creamy formula almost feels like a clay mask at first, but once it's warmed up by contact with the skin, it glides on effortlessly. Unlike other masks, it's not a product that the esthetician just slaps on and lets sit for a few minutes. The entire time the product is on the face, it's being massaged into skin via a facial massage that has three main components: contouring, accupressure and manual lymph drainage. Contouring encourages the skin to move up and out, while accupressure and manual lymph drainage work together to rid the body of toxins along the natural lymphatic pathways. The massage lasts for a good 10 minutes and has the ability to put you to sleep within seconds. I was in heaven. 
Once the magical massage was over, I received a hearty does of La Mer Eye Concentrate, Gel Cream Moisturizer and SPF before my 50 minutes of bliss were over. My skin was glowing and felt baby soft. I couldn't believe something so luxe only cost $95. 
To get your own La Mer Sculpting Facial, book an appointment at one of Bluemercury's many locations (find your nearest one
here
). 
Keywords
Get the latest beauty news and inspiration!
Sign up for our newsletter to receive the latest from Beauty Blitz delivered straight to your inbox.