L'Occitane Gets On Board to Prevent Blindness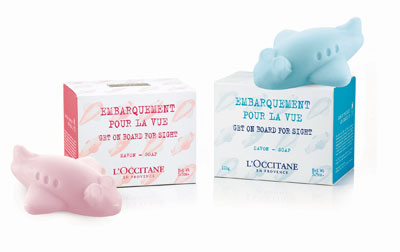 For their eleventh year working with Orbis, an international organization that provides tools, technology and training to end preventable blindness, L'Occitane has launched the cutest addition to your bathtub since rubber duckies: airplane soaps that benefit Get On Board For Sight, which will help raise money for a large-scale project in Burkina Faso.
The limited-edition pink and blue soaps, carved into the shape of an airplane wearing glasses, were inspired by the Orbis Flying Eye Hospital. This refurbished airplane flies to developing countries all over the world with a medical team on board to treat blindness and exchange knowledge with local doctors and nurses. Since 1982, the mobile hospital has traveled to 85 countries and saved the sight of millions of people.
The pink soap has a delicate floral scent with fruit notes of grape and black currant, while the blue soap has a zesty scent of verbena, lemon and grapefruit. Both are made with nourishing shea butter and retail for $6, with all proceeds going to Orbis.
Keywords
Get the latest beauty news and inspiration!
Sign up for our newsletter to receive the latest from Beauty Blitz delivered straight to your inbox.