How Science Education Shaped My Life. Plus, Kiehl's Donates $50,000 to Teachers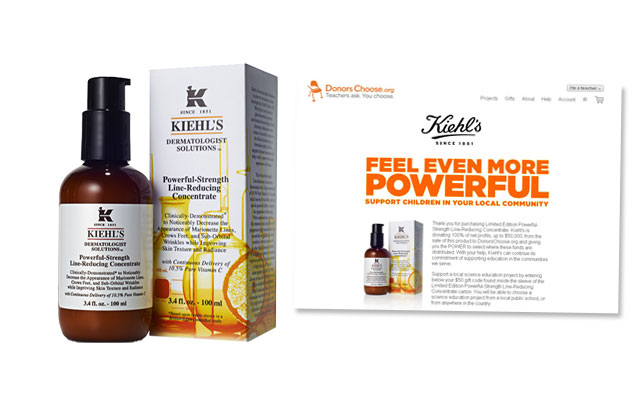 One of the reasons I admire the Kiehl's brand is its ongoing support of meaningful causes, charities and people in need. Kiehl's has supported lots of philanthropic initiatives, but this new project touches my heart, because I'm a science geek. I grew up fascinated by how things work and why things happen.
Before I get into this cool program, I want to acknowledge the people who've supported by scientific education. I'm grateful to my dad, Dr. Andrew Blitzer (a science savant to the core) for taking the time to answer an endless stream of questions with patience and kid-friendly clarity from the time I could speak. . .until, well, last night over dinner. (Thank you, Daddy!!) When I was growing up, gross things were still gross, but they still drew me in. I had to get to the bottom of everything. And I cannot imagine not having had someone there to explain. Science teachers continued to nurture my curiosity with special worm dissections projects at Horace Mann (Thank you, Dr. Kathleen Howard). Later, sociology professors at Columbia helped shape my thesis (Thank you, Dr. Francesca Polletta). 
Full circle, when I became a beauty editor, asking scientists about polymers and pigment formulation was the best part of my day. (Thank you, Amy Synnott-D'Annibale and Martha McCully for patiently showing me the beauty science ropes at InStyle! And for letting me write a story about hyperhidrosis.) I still recall my first R&D interview about hair conditioner and cationic polymers in 2002. (Thank you, Cheri McMaster of P&G!) When I met my husband in 2005, discussing photosynthesis was oddly romantic. When we first moved in together, we would sit on the bed Indian-style and watch the Discovery Channel like two little kids. Believe it or not, he bought me a microscope, and we look at things magnified 800x for fun. A clogged pore would make you vom. But stubble looks like cool giant tree stumps chopped diagonally.
Anyway, I guess the point of all this gushing is that I would be a completely different person these science educators. I am grateful to them all. Not everyone is fortunate enough to sit in a classroom with computers, up-to-date textbooks and proper equipment. Not all teachers have the resources to teach effectively. That's why I am happy to accounce that Kiehl's has partnered with DonorsChoose.org to donate $50,000 to science education nationwide. As part of this program, called FEEL THE POWER, Kiehl's is asking customers to decide how to distribute those funds. 
Through DonorsChoose.org, public school teachers from all 50 states can post requests for their classroom, including computers, books, equipment and art supplies. Donors then search by location, school or subject to find projects and donate to those that most inspire them. Once projects are fully funded, DonorsChoose.org then purchases the requested items and delivers them to the teacher – ensuring the funds are used specifically for the posted project.  Donors are then personally thanked with letters and photos from the teacher and students.
To celebrate the FEEL THE POWER program, Kiehl's has introduced a new limited edition 3.4 oz. size of Kiehl's Powerful-Strength Line-Reducing Concentrate.
From now through April 15, a quantity of Kiehl's 3.4 oz. new jumbo size Powerful-Strength Line-Reducing Concentrate will be available at Kiehl's stores, counters and on Kiehls.com with a specially designed sleeve
Every customer purchasing the product will receive a $50 DonorsChoose.org gift code, found in the underside of each sleeve.
Customers are then invited to visit DonorsChoose.org/Kiehls and redeem their gift code to apply $50 of Kiehl's donation to the project of his or her choice
All projects on DonorsChoose.org/Kiehls will be science related in a nod to Kiehl's pharmaceutical and scientific heritage. All projects will also be from schools in the cities and towns in which Kiehl's customers are located, so customers can search for and support their local teachers and students.
Get the latest beauty news and inspiration!
Sign up for our newsletter to receive the latest from Beauty Blitz delivered straight to your inbox.