Keeping My Travel Game Strong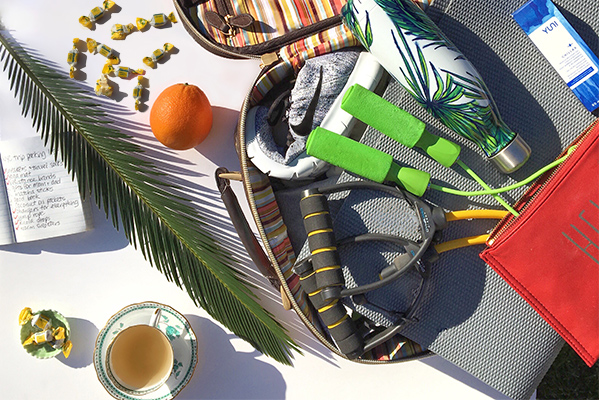 Traveling is fun—packing is not. And for me, travel is not only a hobby, but also a job requirement. Packing efficiently, skirting TSA, and staying healthy are vital. And I'm going to tell you exactly how I pull it all off. In the next two weeks, I'm flying to New York for business (for two live TV segments about beauty, fashion and wellness trends - no pressure!) and Deer Valley, Utah (for a big family ski trip with my dad, my brother and his family, and my family). 
I was born with an affinity for travel—I'm one of those people who gets excited about planning my next vacation. But I don't look forward to the necessary step of getting from Point A to Point B. I've had to learn the art of overcoming jet lag, looking presentable on very little sleep, maintaining healthy habits to stay sane. I prepare for my voyage by making sure I bring a few items.
Packing Priorities: Wellness
1.
Carrington Farms Organic Unrefined Cold Pressed Coconut Oil packets
. I use coconut oil for beauty and nutrition. The MCT oils help with digestion and keeping your metabolism revved. I empty one packet into warm oatmeal, and it dissolves instantly. I also smooth it onto dry skin—cuticles, lips, face—and it blends right in. It does wonders after a hot shower. So much more elegant than hotel body lotion. 
3.
Ricola Original Natural Herb Cough Drops
. I honestly don't know what I would do without these precious gems. I keep them in every pocket, pouch and bag. In fact, as I write this, I have a scratchy tickle in my throat that won't go away. So into my desk drawer I go - yep, there's my office stash! It's so frustrating trying to clear my throat. Everyone around me thinks I'm trying to get their attention with a loud
"Ahemmmmm!"
Popping one Ricola drop into my mouth instantly gives me relief. As it dissolves, I taste the subtle-but-delicious blend of natural herbs that remind me of the tea my mom used to make me. And my voice is reliably clear when I need to be on camera for work or on conference calls.
4.
Kiss My Face Mineral Sunscreen SPF 50
. Most people don't realize this, but you can get a dangerous level of sun damage from rays that penetrate airplane windows. When you're up above the clouds, there aren't environmental layers blocking UVA/UVB rays. I apply in my seat, after cleansing my face with a micellar water wipe. Most sunscreen bottles contain more than 3 ounces of product, so I decant a bit of it into a tiny
Muji Travel Jar
to make it TSA-friendly.
5.
S'well Waikiki Water Bottle
. I love the lush, tropical print of this stainless steel, BPA-free, reusable water bottle. It makes me feel safe knowing that there's no leaching or risk of toxins getting into my water. It's so easy to fill it up at the hotel gym and rinse out at night in my room. The top is wide enough to fit ice cubes, a huge plus.
Packing Priorities: Fitness
1. Scunci Active Visor Headwrap. This is the perfect mashup of a water-wicking headband and sun-protecting visor. And it doesn't mess up my hair - score!
4.
Nike Free RN Flyknit Running Shoes
. I'm really impressed by how flexible these shoes are. Each one can be flattened and rolled into the size of an apple! These are a great option for anyone looking to do full workouts while traveling. They offer the support of a running shoe and can be wedged along the sides of an already-full suitcase.
There you have it. Now remember: No matter where you're going, what you're wearing or how you're feeling—there's no greater equalizer than standing with your feet shoulder-width apart as a TSA agent handles you like a heifer at auction. So we can all benefit from a few tried-and-true tips to make our trips more relaxing, don't you think?
This post is sponsored by Ricola. All opinions are my own.
Get the latest beauty news and inspiration!
Sign up for our newsletter to receive the latest from Beauty Blitz delivered straight to your inbox.