June Jacobs' New Healing Cream Has An Amazing Story Behind It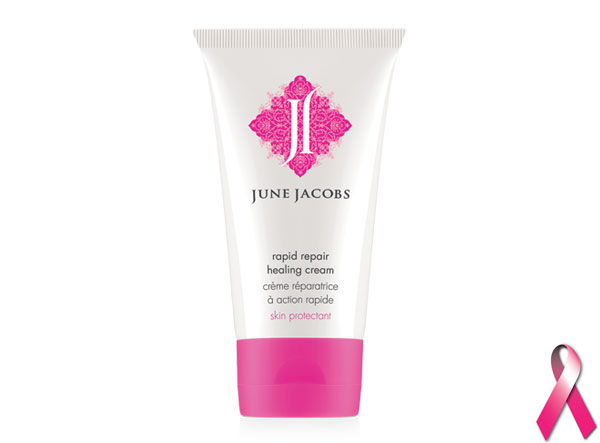 With Breast Cancer Awareness Month in full swing, I've come across a lot of beauty brand initiatives to support the cause. Every October, they choose a product or two, update the packaging (usually making it pink) and take a certain percentage of proceeds to donate to a specific BCA cause or charity. While I fully support all of these initiatives, I can't help but think about which ones are genuinely concerned about breast cancer awareness and which ones are just jumping on a bandwagon. I even worry about the accuracy of these donation claims, questioning whether or not the money is truly going to the right hands. 
With that said, I prefer to talk about the brands and products that honestly support the cause and really change the lives of those affected by breast cancer. June Jacobs' new Rapid Repair Healing Cream deserves to be highlighted because it is a product with an amazing background story and purpose that supports the cause all year long. 
June Jacobs (the woman; not the brand) is a breast cancer survivor (you go, girl!) and her personal battle is what inspired the development of this astoundingly effective healing cream. Jacobs' road to recovery involved 23 sessions of radiation on her left breast. I'm not going to pretend I know a lot about radiation and the effects of it, but after hearing Jacobs' story, I learned that radiation can leave skin burned, sore, irritated, and in some cases, it can even turn black. Jacobs experienced many of these effects and found that the generic cream given to her by her doctor to help relieve the skin simply did not work. So she began to research different calming and soothing ingredients, and together with the brands' Chief Science Office, Rose Apolito and Dr. John Ng Weill Cornell Medical College and New York Presbyterian Hospital, created the Rapid Repair Healing Cream. The results were extraordinary. Jacobs said by the time her radiation sessions ended, her skin was visibly better to the point where you can't tell which one of her breasts had undergone the radiation. That's no easy feat! 
I know you're dying to find out what's inside, so here goes. There are two active ingredients in the formula, 0.50 percent allantoin and 1.50 percent dimethicone. The former is derived from the root of the comfrey plant, which is native to Europe and temperate areas of Asia. It is known to soften the epidermis and promote growth of healthy tissue to improve skin's moisture and irritation. The latter is an effective protectant that produces barrier properties to prevent moisture loss. Both are blended with inactive ingredients like antioxidant-rich edelweiss extract, anti-inflammatory imperatoria extract, moisturizing shea butter, omega 9-rich oleic acid, and omega 6-rich linoleum acid. All together, you've got yourself a truly hydrating and healing cream that sinks into skin effortlessly without having to rub too hard (ideal for those suffering from skin irritation) and won't leave skin greasy. I applied a generous amount of it to my hands and was blown away over the lack of slime and grease on my hands, as most hand creams make me want to wash my hands immediately. 
But don't be mistaken; this product is not just for people going through radiation. It's truly one of the most universal creams I've ever tried. It works wonders to soothe sunburn and relieve skin after non-invasive treatments like lasers and microdermabrasion. You can apply it from head to toe, as it can be an awesome moisturizing primer for makeup and full-on body cream.
The June Jacobs Rapid Repair Cream is now available on
junejacobs.com
and is available in three different sizes: 1.6 fl. oz. for $30, 3.8 fl. for $60, and 6.7 fl. oz. for $80.
And of course, every year during the month of October, 50 percent of proceeds will be donated to two charities that are close to the Jacobs family's heart. 25 percent will go to Anne Moore Breast Cancer Research Fund, while the other 25 will benefit the Dubin Breast Center. 
Keywords
Get the latest beauty news and inspiration!
Sign up for our newsletter to receive the latest from Beauty Blitz delivered straight to your inbox.