I Found the Secret to Walking in Heels
According to FitBit, I take on average 10,000 steps a day. That means each foot pounds the pavement 5,000 times. It's pretty impressive, especially when you factor in my collection of oppressive high heels. Call me crazy, but I'm hooked on height. Nothing sculpts the calves like towering high heels. And they garnish an outfit like nothing else. I wear high heels more times than not. I've logged mileage running in them to chase taxis. I'd like to take this opportunity to thank my metatarsals for putting up with me all these years.
I've tried to fight back by popping a couple Advil and forcing my feet back into submission. Cue limping.
Sometimes, though, my feet can't help but crumble under the pressure. Especially after a shoe sale at Barneys or Bergdorfs. I've had my share of red, swollen pinky toes wedged into pointy Manolos. And don't ask my arches what they think of steep Giuseppe Zanotti slingbacks. All things considered, blisters are the worst. I wince with each step, anticipating the ouch. Even if I downsize to flats, my screaming hooves drag me to the nearest bench. New sneakers are just as rude. Breaking in any shoe is mean, really. And for that, dear feet, I am sorry. The pain leading up a blister is excruciating. If anything touches a blister, it feels like Medieval torture. I've tried to fight back by popping a couple Advil and forcing my feet back into submission. Cue limping. I've taken my bloody blisters to the nearest shoe store for emergency sandals. I've even begged nail salons to sell me disposable flip flops. But once the blister heals, I'm right back in killer shoes. It's worse than going into labor. Can someone invent a fashion epidural?
Beauty is not for the faint of heart. These days, looking good requires a high pain threshold. And I finally found the solution - an insider secret that European women have been using for years. It's called COMPEED Blister Cushions. And a few weeks ago, the brand launched in the States. I wasn't expecting a miracle. But they're miraculous.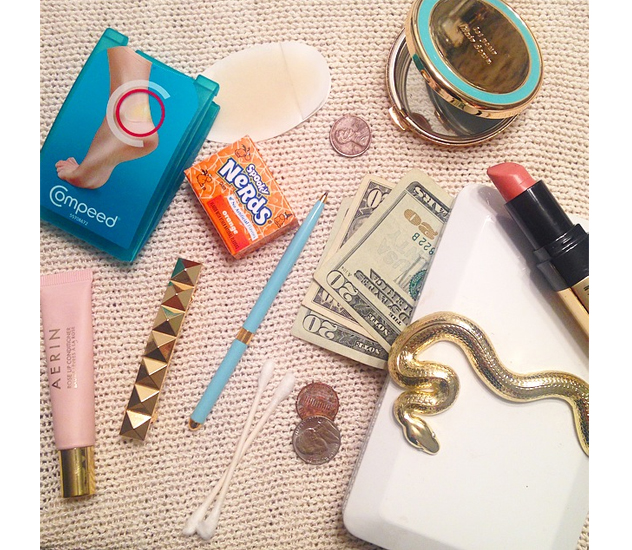 My evening clutch is filled with secrets. (Clockwise from top: COMPEED® Blister Cushions, Nerds candy, Kate Spade mirror compact, Bobbi Brown Luxe Lip lipstick in Mod, By Kilian serpant clutch, Q-tips, Tiifany & Co. lacquer purse pen, Sephora studded barrette, Aerin rose lip conditioner)
Unlike the medley of bandages and moleskins I've tried in the past, COMPEED® Blister Cushions cover the wound completely, acting as a breathable second skin that relieves pain fast. You can wear the tightest shoes with a new blister and not. feel. a. thing. The cushions' hydrocolloid technology fits like a second skin and stays in place for days (even after taking a shower!) to provide a barrier that protects against water, dirt and bacteria. I carry them around wherever I go and hand them out to friends like Tic Tacs. Everyone is hooked. It's a religious experience to devout heel-wearers. Bravo to Johnson & Johnson's R&D team. Something tells me you're all wearing stilettos with your lab coats.
COMPEED® products are available only at Walgreens and Duane Reade stores and online at www.walgreens.com. They're a steal at $8.99 for a pack of five.
I've partnered with COMPEED to test and review the product. All opinions are my own. 
Get the latest beauty news and inspiration!
Sign up for our newsletter to receive the latest from Beauty Blitz delivered straight to your inbox.