Video: This Is How Sunscreen Really Looks On Your Skin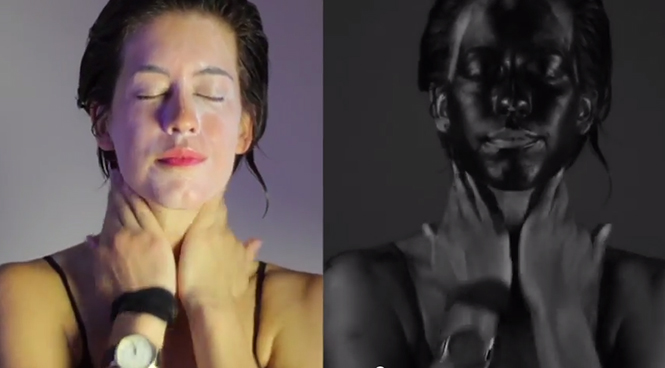 I've been struggling to figure out a way to make my husband apply more sunscreen. The man works outside all day and has the worst farmer's tan on the planet (I'm talking t-shirt, shorts, sock and wedding band lines). But, get this, he only applies sunscreen on his left arm. You see, he has a full tattoo sleeve on that arm, and it's much more important to keep that protected than his beautiful face. To say I'm one frustrated wife is an understatement. But an artist named
Thomas Leveritt
 created a video that might work to my advantage. 
The video, dubbed How the Sun Sees You, features people's reactions to what their skin looks like through an ultraviolet camera lens. Many adults were shocked to see the amount of sunspots on their faces, while children's skin looked perfectly healthy. I've seen how sun damage looks through this type of filter, but what really shocked me was how sunscreen looked through the ultraviolet lens. It's crazy! 
Watch the video the below to see what sunscreen really looks like on you and share it with everyone you know who still refuses to apply SPF. Can you guess what my husband will be watching tonight? 
Keywords
Get the latest beauty news and inspiration!
Sign up for our newsletter to receive the latest from Beauty Blitz delivered straight to your inbox.