How to Layer Your Eyeliner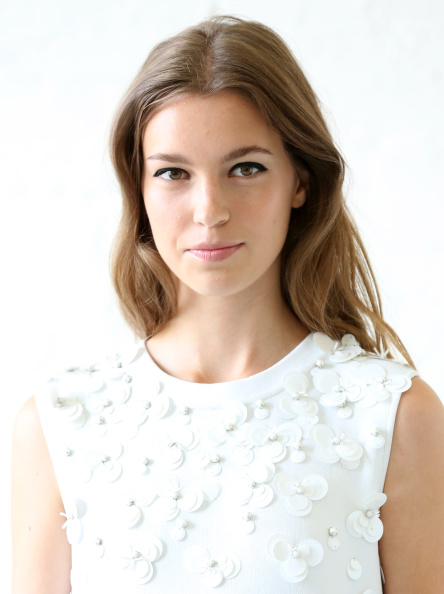 Models at Kate Spade wore MAC Fluidline in Blacktrack layered with the brand's Acrylic Paint in Black Black. Photo: Getty Images 
Backstage at Kate Spade's Spring 2015 presentation Friday morning, MAC Cosmetics Artistic Director Lyne Desnoyers was busy turning out models with the most precise, ultra black eyeliner — but don't call it a cat eye. 
"Instead of doing your normal '50s flick, I'm squaring it a little bit," Desnoyers explained to a group of beauty editors. "I'm going out, squared, and I'm lifting by doing — as my assistant called it — a little 'thorn.' So that when she has her eyes open, you get the elongated [effect] but at the same time you don't have a flick; it looks straight. It's almost as if you're making your classic eyeliner a lot more compact, but using all the trickery."
As is the case with all those street style photographer-bait outfits that are currently milling around Lincoln Center Plaza for #NYFW, the secret is all in the layering.
"The eyeliner, the trick for it to stay longer is to actually do some layering, which is exactly what I did today. The presentation lasts two hours; they're doing a photo shoot as we speak; it needs to stay on."
"
Fluidline
is a gel-based eyeliner — super stable. That is how I create my first coat. And of course the backstage twist on it is [layering on] a liquid that's called
Acrylic
— it makes them blacker than black."
For real life, the French makeup artist advises you skip the paint in favor of more user-friendly options.
"Someone might want to do their entire canvas with a kohl — great idea. Layer it with powder for stability and depth. Layer it with a gel liner, why not? Much easier to maneuver that way. Some women will feel great about doing the entire thing with the gel eyeliner — layer it with a powder if you want."
Bottom line? Layer your liner like you would your outfit; two textures are better than one. "It makes it super black and it makes it long wear." What could be simpler than that?
Keywords
Get the latest beauty news and inspiration!
Sign up for our newsletter to receive the latest from Beauty Blitz delivered straight to your inbox.