Home Hair Salons Are the New Dream House Must-Have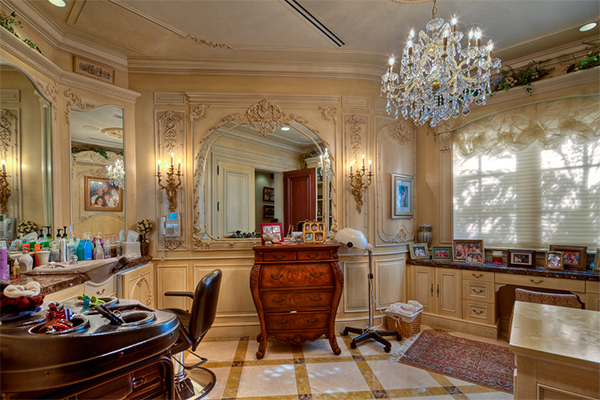 Photo: via The Wall Street Journal
Walk-in shoe closets and spa-caliber bathtubs are cool and all, but these days your crib is nothing if it doesn't have its own private salon. According to this
Wall Street Journal real estate trend piece
on the rise of home hair salons, rooms equipped with hair-washing basins, stylist chairs and mani-pedi stations have become a hot sell among the type of homeowner whose bowling alley and recording studio aren't quite enough to fill their cavernous estates:
"Kimberly Najjar included a hair and nail salon in the 40,000-square-foot, nine-bedroom house she and her husband built in Atlanta. Ms. Najjar says she has enjoyed the salon more than any other feature, including the ballroom, cigar room, theater, two gyms, seven kitchens, recording studio and swimming pool. 'I hate going to salons because of all the chaos going on there,' she says. Many salons have no cellphone policies, which can be a pain, she adds." 
Right now we imagine Ms. Najjar is playing Candy Crush and taking a conference call on speakerphone while she has her hair blown out in the comfort of her compound. To be fair, it is pretty great having your hair done at home, which is why
on-call beauty apps
have been gaining popularity lately. Of course, the other 99 percent will have to vacuum up their own hair afterwards.
Keywords
Get the latest beauty news and inspiration!
Sign up for our newsletter to receive the latest from Beauty Blitz delivered straight to your inbox.