Hints of Color at Peter Som - NYFW Spring 2012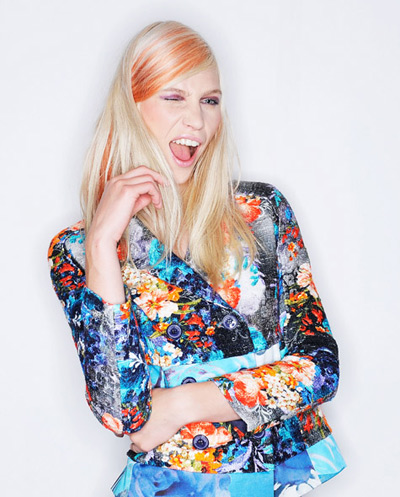 Photo: Wireimage
Peter Som was not afraid to use bold colors in his collection, so it left that hair and makeup excited to play with color, too. "In the collection there a lot of prints, so I wanted to play with color," said makeup artist Tom Pecheux for MAC.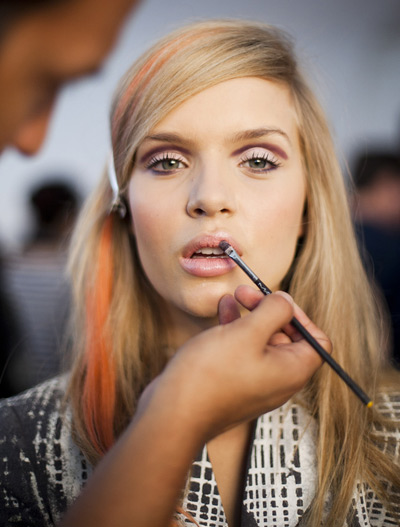 Photos: Mat Szwajkos for Beauty Blitz
The overall makeup look was 60's inspired with a Twiggy-esque eye. Tom used a violet-burgundy color on the eye, and he "drew a banana" in the crease. "I chose burgundy because, for me, it's a color that's almost like a strong pastel. It's not vivid, it's more of a shadow."
He left the rest of the face natural looking with rosy cheeks and a nude lip. "It's not about showing too much makeup; it's about making the girl look cool, young and fresh," Tom said.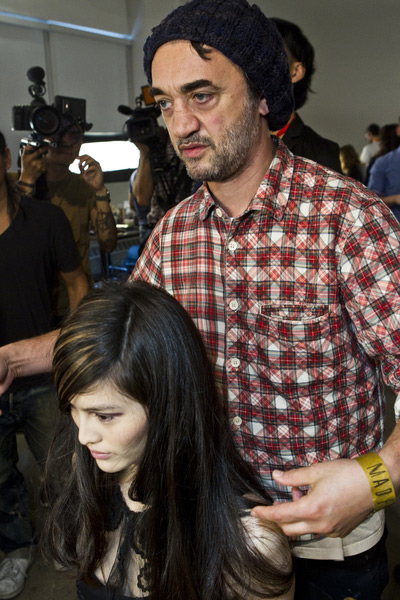 Photo: Mat Szwajkos for Beauty Blitz
Eugene Souleiman for Wella created the spirited hair look. "It's a hairstyle that's loosely based on the 60's, but it has a kind of grunge element to it, which is what I love," Eugene said. "The clothes are very, very chic, and I just said to Peter, 'I think the girls should look like bad girls with bad hair from a good family.' They should kind of look rebellious and not prissy or manicured girls - in terms of their hair."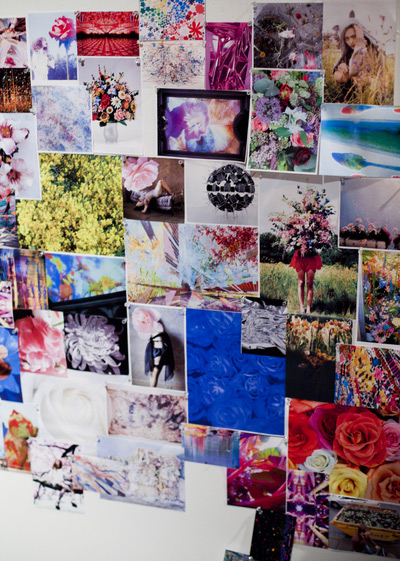 Photo: Mat Szwajkos for Beauty Blitz
One of the main elements of rebellion in the hair are the bits of color popping out of the look. Wella's brand ambassador, Aura Freedman, took inspiration from Peter's mood board (pictured above), which had many images of roses and flowers. "A lot of the tones in the rose had this rose gold, peachy tone, so we created [hair extensions] as a play off that with peach tones, rose golds and amethyst tones."

Photo: Mat Szwajkos for Beauty Blitz
Eugene blew out the hair and created a low side part and swept the hair across the face. The hair extensions were placed under a thin layer of hair to blend in with the models' natural color.
Zoya Erin, a sheer nude pink, was used on the nails. The color doesn't compete with the clothes, but it has a nice iridescence that complements the rose gold tones in the hair.
Keywords
Get the latest beauty news and inspiration!
Sign up for our newsletter to receive the latest from Beauty Blitz delivered straight to your inbox.