Have You Heard of BB Cream?
It's OK if you don't know what BB cream is, but if you were in Asia it'd be part of your everyday vocabulary like lip gloss or mascara. It's been all the rage in Korea for quite some time now and has spread in popularity throughout Asia thanks to the Korean Wave (you can look that up on Wikipedia).
So what is BB cream? Well, the "BB" stands for Blemish Balm, and was actually formulated in Germany. It was used as a healing balm for treatment post-laser surgery to soothe sensitive skin and still provide a little coverage for cosmetic purposes. Not quite sure how Korea stole Germany's thunder, but what made the BB cream craze proliferate in Korea (and eventually all of Asia) were the drama stars and their impeccable skin.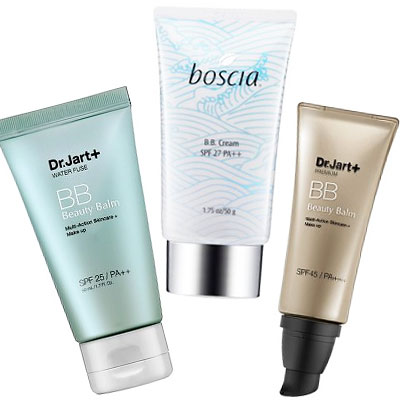 Sephora is bringing this fabulous Asian trend to the West, thanks to Boscia and Dr. Jart+, which are both Asian brands.
It has light coverage similar to tinted moisturizer and it nourishes and conditions the skin, so you have more even skin tone, smoother skin and a healthier looking complexion with continued use. They come in many formulations for anti-aging, acne treatment, whitening (or brightening) and SPF. BB cream can be used as a primer or a foundation, and Korean women love it because it's supposed give you coverage without looking heavy, cakey or unnatural.
There are plenty of Korean brands to choose from, and here are some of my top places to find them.
YesStyle.com: This very thorough site has a variety of Asian brands ranging from clothes to shoes and beauty. They have a great inventory of BB creams, which you can peruse by brand or just type "BB cream" in the search box. They feature top brands like Laniege, SkinFood and Etude House.
Skin79USA.com: This popular Korean brand is known for marrying the best of nature with science and has a US e-commerce site with a great selection of BB creams.
MisshaUS.com: This is another popular Korean brand with an American site, where you can learn about and buy their top selling BB creams.
Amazon.com: What can't you buy on Amazon?! This mega e-tailer also has a good selection of BB creams from various brands.
Most BB creams come in one shade - sometimes two - so I'm wondering how this one shade fits all will translate the average American consumer. But I think it's about time American beauty consumers know what BB cream is and can find it at a retailer they know and trust.
Have you tried BB cream?
Get the latest beauty news and inspiration!
Sign up for our newsletter to receive the latest from Beauty Blitz delivered straight to your inbox.