Haunted Southern Belle at Chris Benz - NYFW Fall 2011
"I was inspired by the decorum of the Old South," Chris Benz said. "I've actually been going to Savannah once a month to mentor students at SCAD, Savannah College of Art and Design, so by happenstance I've been able to experience Savannah, and all of its mystery." He explained the collection to be the strange blend of the traditional South mixed with the younger, new experimental art inspired by his students. "The collection is a lot darker than in the past, I was really into the idea of that kind of haunting beauty."
Hair: John Ruidant for Redken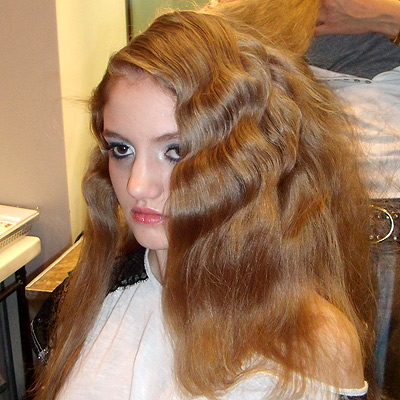 With that in mind, John wanted to create a hair style that conveyed that witchy sort of feel. "We're creating a texture that is curly at the roots but straight at the ends. We used a 1-inch curling iron at the roots and wrapped the hair one and half times around one way, and then one and a half times the other way." That created a wave in the hair, and then he used the iron to straighten the ends of the hair. Once the waves were set he brushed the hair and then went backcombed the hair with his fingers. We noticed some of the models had the colored streaks from the Tracy Reese show earlier, but John told us they didn't have time to shampoo, so they were just leaving it, mentioning it worked with the look.
Makeup: Daniel Martin for Lancome
"The inspiration was PJ Harvey from the 90s," Daniel said. "Her music is so haunting and she's witchy looking and her blue eyeshadow was her iconic look." Some of the models were wearing shades from the Lancome Color Design 5 Pan Palette in Teal Fury to get that iconic blue eye, while others had a mauve eye using colors from the Mauve Cherie palette. Daniel kept the lips sheer and the cheeks sculpted. "Nothing is too finished," he said. "The clothes are so tailored, so we wanted the makeup to be a little off."
Nails: Anna-Maria for Lancome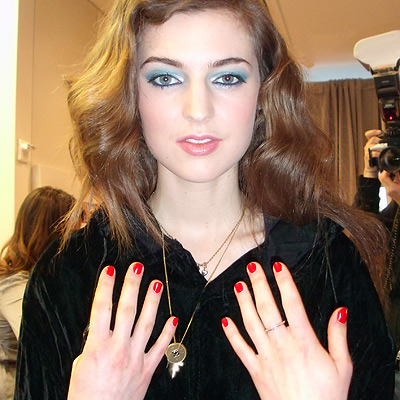 The models are wearing the two news shades for Fall 2011, Bang Bang Red and Noir 29.
Skin: Clarisonic
Before the makeup artists worked their magic, models got their skin cleansed with the Clarisonc, to give them a nice fresh base, especially considering many of the models were coming from earlier shows.
Keywords
Get the latest beauty news and inspiration!
Sign up for our newsletter to receive the latest from Beauty Blitz delivered straight to your inbox.