Would You Wear a Scorpion on Your Head?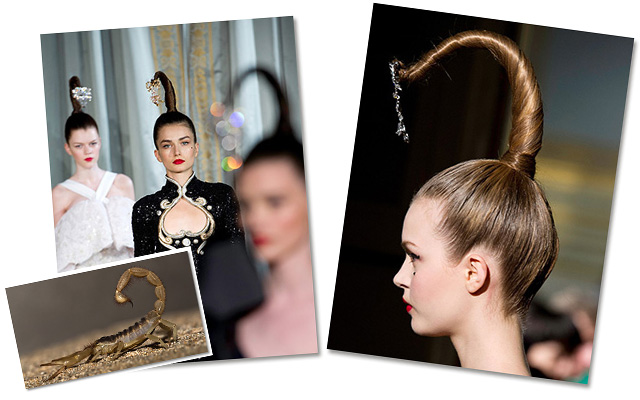 We've seen beauty looks inspired by creepy crawlies in the past. Remember the
insect eyes
at Erin Fetherston's Fall 2012 collection? Or
these looks
straight from the runways in Paris?
But never a venomous scorpion. When we first saw this look at the Alexis Mabille Haute Couture Fall/Winter 2013 collection, we thought, "Bravo, a hair erection. What should we call it, a hairection?" But something didn't feel quite right about that neologism. 
We were certain there was an insect with a curly antenna like that. But no, we couldn't find one in our entomological photo digging.
Aha, a scorpion tail. Also known as a metasoma.
The metasoma, a scorpion's curved tail, injects deadly venom into prey through a stinger at the tip. Might come in handy at sample sales, no?  
As you know, we at Beauty Blitz are nerdy when it comes to science, and we work tirelessly to come up with accurate references, however obscure they may be. So forgive the detail if it's not your thang. But here's the rub about this uncanny resemblance: Also known as a metasoma, the scorpion's tail curves up and forward towards the head so the scorpion can inject deadly venom into its prey through a stinger on the tip. Might come in handy at sample sales or when your man steals the remote.
Keywords
Get the latest beauty news and inspiration!
Sign up for our newsletter to receive the latest from Beauty Blitz delivered straight to your inbox.