Gucci Westman Accepts Tips?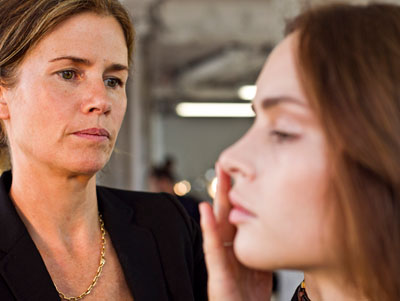 Revlon Global Artistic Director, Gucci Westman, is the go-to makeup artist for Cameron Diaz and Kate Winslet, along with a lengthy list of our favorite fashion designers. She's been a kingpin backstage at shows like Rag & Bone, Ralph Lauren, and Proenza Schouler, and knows her way around a palette like nobody else. But she recently told us that she occasionally learns a tip or two from her clients.
"Cameron Diaz is pretty crafty with her tricks, We've known each other for about 16 years. She's taught me that if you have a pimple when you're traveling, she uses a lancet to nick it very precisely and applies Neosporin and Visine to take away the redness and swelling. That does work. I've done it before.
Cameron has another trick. If you have a big spot that looks white when you cover it, add powder over the bump, a little concealer over it, and then powder on top. It seals the whole thing. If you use a little bit of a darker powder, it doesn't look light and raised, it just looks like your skin color. Concealer can make it look too light.
When I had a huge red spot on my face during the hurricane [Sandy] - I think it's because I was staying at a hotel all week and just eating French fries with my kids - my dermatologist told me to dab a bit of cortisone cream on the spot. If you ever want to save someone's day tell them to do that. It takes down the redness and swelling 100 percent. It's pretty amazing.
Demi Moore taught me to breath in deeply through your nose while putting Visine in your eyes, so it goes right into your tear duct and doesn't mess up your make up. That's something that I've always sworn by."
Keywords
Get the latest beauty news and inspiration!
Sign up for our newsletter to receive the latest from Beauty Blitz delivered straight to your inbox.