These Korean Eyeliners Put All Other Long-Wearing Formulas to Shame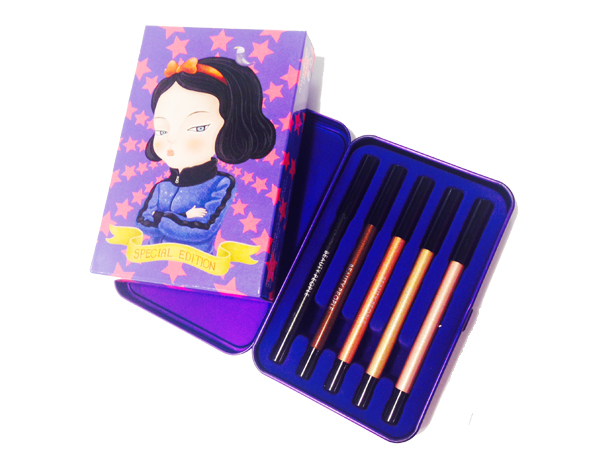 Beauty standards differ depending on where you are in the world, and so do the products that promise to make you prettier. In our Globetrotter series, we highlight our weirdest and most worthwhile finds from overseas.
Liquid eyeliner
has a special place in my heart. So special that I've forgotten about all the other liner formulas out there. Call me biased, but pencils and gels just can't compete with a liquid's long-lasting, smudge free finish. Plus, if it can't create the perfect cat eye, I don't care for it. 
When this adorable box of eyeliners by Korean brand
Beauty People
 made its way to my desk via
Memebox
, the packaging practically screamed at me to give it a try. I mean, how could you say no to a bright purple tin with Snow White rocking a track jacket while staring you down? I opened it and started playing with the five gel eyeliners inside. The shades ranged from a sparkly black and glittery chocolate, to three shades of metallic copper. Each shade more beautiful than the last. 
It wasn't just the colors that made my heart go pitter patter, it was the effortless way they glided on my skin – like butter! All it takes is one swipe for maximum metallic goodness (yes, on the lower water line, too). I can't even get that with my liquid liner.  
But the real question was how well they wore. To say that they passed the test would be an understatement. These babies do not budge, no matter how much you rub. You actually have to use a tiny bit of force when taking it off, though. Hey, if it means all-day wear without smudging, I'll take it. 
The Beauty People Special Edition Season 2 eyeliner tin is available on
Amazon
. 
Keywords
Get the latest beauty news and inspiration!
Sign up for our newsletter to receive the latest from Beauty Blitz delivered straight to your inbox.