The Met Gala's Most Detailed Hairstyle Involves Fresh Cut Roses and Toupee Tape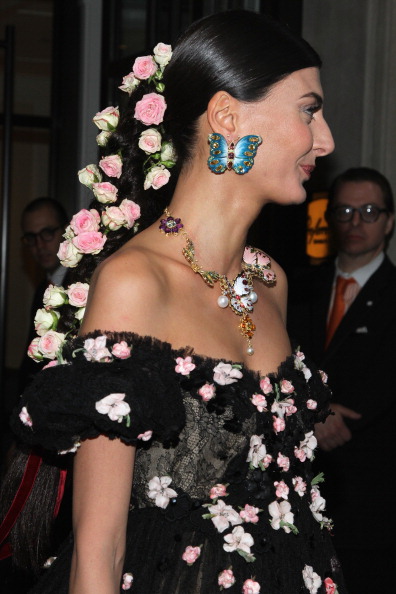 Fashion editor and street style star Giovanna Battaglia may not be as well known as Met Gala guests like Beyoncé or Emma Stone, but that didn't stop her from out-accessorizing basically everyone with her interpretation of the "white tie and decorations" dress code. Battaglia's best decoration was, of course, her hair, which was adorned with freshly cut roses to continue the theme of her floral Dolce & Gabbana dress. We got the full breakdown from hair stylist
Kristan Serafino
, who created the intensely intricate look:
Pro tip: Make sure to flat iron sections of hair no wider than the width of the flat iron. 1" flat iron = 1" section of hair!
2. Once the hair is flat ironed straight, divide the hair into three sections: right side, left side and back. Use an imaginary line drawn between the back of the ears as a guideline to your sections.
3. Secure the back section of the hair into a tight ponytail, then secure it with a hair hook.
Pro tip: Raise the chin to the ceiling when securing the band. Once the band is secure, lower the head and the hair at the nape of the neck remains nice and taut. No more bulging hair from the nape of the ponytail!
4. Once the back is set into the ponytail, spray more of the Oribe Foundation Mist to the hair below the band to keep the hair in place. Next, begin with a fishtail braid. Once the braid is finished, secure the base of the ponytail with a small band. Lastly, gently and sparingly pull random bits of hair loose from the braid to create a more naturally romantic style. 
5. Now grab one of the two side sections of hair and wrap the hair securely around and around the ponytail until the ends of the side section can be secured at the base of the ponytail with bobby pins. Repeat the same step with the other side section of hair. 
6. To finish the elegant look, randomly place fresh cut roses into the hair. At the top section, insert the rose stems into the base of the ponytail and secure with bobby pins. From the beginning of the braid to the end of the ponytail, first wrap toupee tape around the rose stems, then randomly tuck the stems of the rose into the braid.
Pro tip: When removing the toupee tape at the end of the evening, generously spritz shine spray onto the tape so that the tape easily pulls away from the hair. 
7.
Finish look with a spritz of
Elnett
hairspray to secure all the flyways. 
Photo: Getty Images
Keywords
Get the latest beauty news and inspiration!
Sign up for our newsletter to receive the latest from Beauty Blitz delivered straight to your inbox.