Fun Summer Girls at Desigual Spring 2014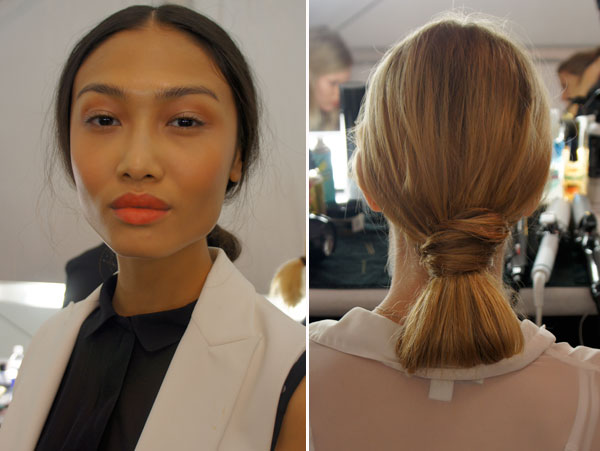 There are a lot of things we love about the spring, but the return of bright colors after a long winter is at the top of the list. It's the definition of the season and, backstage at Desigual, both Gregory Arlt and Keri Blair for MAC Cosmetics knew the drill. 
Gregory kept the eye look to a minimum to keep the focus on the pout. He wanted the models to look like "the A-plus version of themselves" by creating a "beautiful coral lip." He used Casual Color in Out for Fun as a base and pressed Neon Orange Lipstick right on top starting at the center and working his way out. "It's effortless beauty with a pop of color," he said.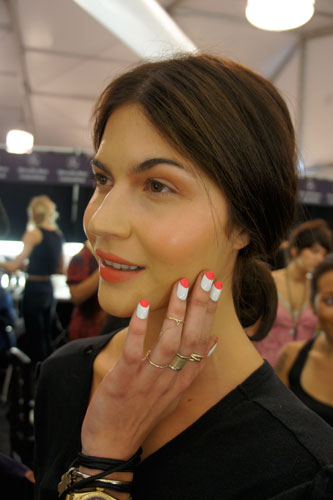 The pops of color continued over in nails where Keri applied pre-made nail tips in a short oval shape for a "sporty and cool" look. "There is a very intricate circle pattern that you'll see carried throughout the story of the show, so we did a twist on a French manicure by creating a circle shape at the tip," she told us.  Her colors of choice were MAC Nail Lacquers in Fiesta Wear, Impassioned or Steamy on top of a white base. "The concept of a French manicure has always had a place in the trend of nails. I think this is a great nod to that in a fun, cool, colorful way," she added.
As for hair, Pantene celebrity stylist Danilo went with a "simple, yet elegant" 'do - a nod to summer. He pulled the hair back at the nape of the neck into a low pony tail. He refrained from pulling the ponytail all the way through to get a loop. Then, he finished it off by wrapping the rest of the hair around the elastic. "It's effortless but still put together," he said. "It's a realistic look for all women." 
Get more exclusive NYFW Spring 2014 beauty coverage here! 
Keywords
Get the latest beauty news and inspiration!
Sign up for our newsletter to receive the latest from Beauty Blitz delivered straight to your inbox.