Oil Refinery: The Best Ways to Anoint Skin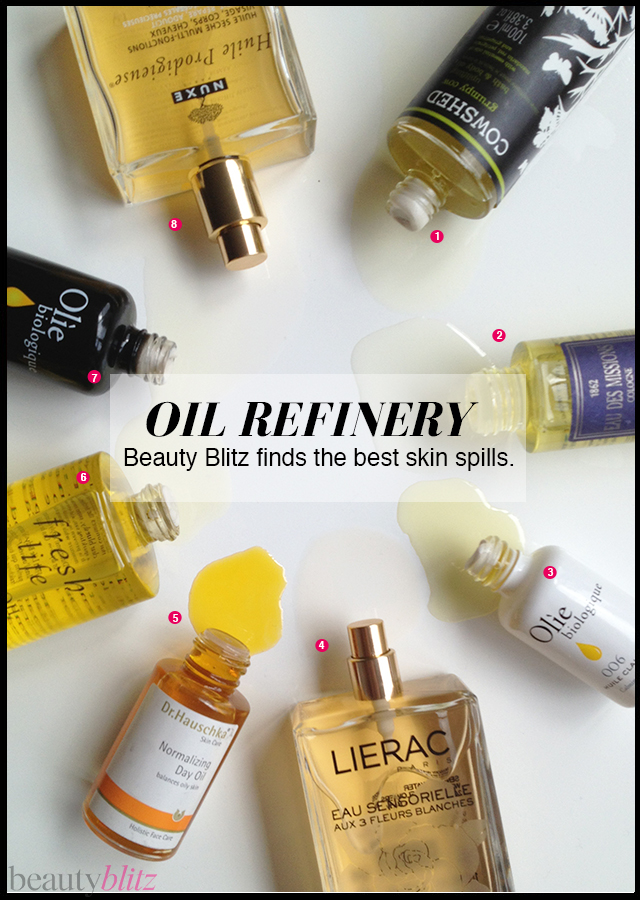 Now that everyone has gotten past the rumor that oils cause breakouts (we have the Rodin Olio Lusso to thank for dispelling it), we decided to test the latest - and most luxurious - oils. From slick to powdery with notes of grass, almond and clove, these oils deliver more than moisture and sheen. 
1. Cowshed Grumpy Cow Uplifting Oil
When
Barney's New York
asked our founder Polly Blitzer to pick
her favorite travel products
, this tangy body oil was at the top of her list. Something about the Mandarin red essential oil and grapefruit essential oil melt away tension during a massage or soak in the bathtub. 
2. Le Couvent des Minimes Eau de Missions Beneficial Oil
We took you on a 
voyage to Provence
earlier this year, and now we're pleased to share a new product from this French line. Based on the traditions of Franciscan monks, this natural oil pays tribute to the brand's convent, with comforting vanilla, skin-softening sweet almond oil, hydrating sesame oil and soothing camellia oil.
3. Olie Biologique Huile Calme
On days when our skin is behaving like a rebellious toddler, we blend a few drops of this lavender-chamomile oil with foundation to reduce redness, calm sensitivity and shield skin from brisk autumn wind.
4. Lierac Eau Sensorielle Aux 3 Fleurs Blanches
This refreshing water, a lighter version of the brand's oil, gives us a delicate way to indulge in Lierac's bouquet of white flowers (gardenia, jasmine and camellia). Made with glycerin and other skin-smoothers, the  formula feels so dry, you can throw on jeans right after applying.
5. Dr. Hauschka Normalizing Day Oil
Oily skin and skin oil mix quite nicely. This quick-absorbing elixir helps balance excessive oiliness with calendula extract, known for its astringent qualities. At the same time, the formula hydrates, so your skin will not feel tight or dry.
6. Fresh Life Body Oil
What's not to love about lightweight oil that is sheer enough to douse on your skin, but rich enough to use in your bath? The
scent of this range
alone made us fall madly in love.
7. Olie Biologique Organic Argan Oil
This argan oil stands out for its 100% USDA organic certification. That means you get absolutely pure, organic product in every drop. 
8. Nuxe Huile Prodigieuse
We used this dry oil all summer for its subtle sheen and warm scent (it contains macadamia, sweet almond and hazelnut oils). But it plays well with skin during the cooler months, too. It contains vitamin E to nourish and soften skin. We mix a few sprays with our hair product to control flyaways and sweep it over bronzer to give cheekbones a slight glint.
Keywords
Get the latest beauty news and inspiration!
Sign up for our newsletter to receive the latest from Beauty Blitz delivered straight to your inbox.