Drew Barrymore: "I Don't Want to Be a Celebrity. I Just Want to Drink Wine and Wear Makeup"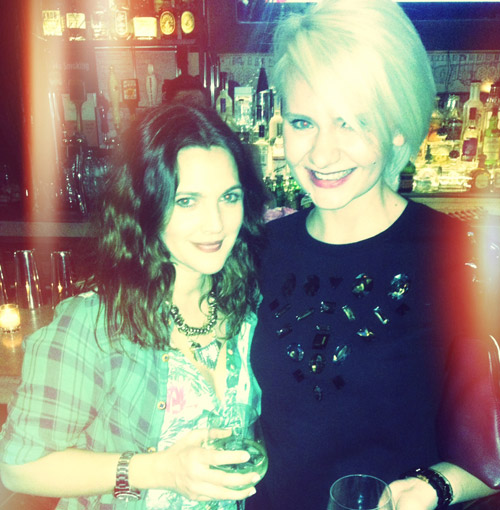 If there's one star who can change the face of celebrity makeup, it's Drew Barrymore. The woman is sweet and, oh, so genuine. Her new makeup collection for Wal-Mart, Flower, truly has a reason for being. This week, I celebrated the launch of Flower with Drew and a few other beauty editors. We were introduced to the 181-piece collection (that's no small feat, Drew!) while sipping Drew's brand of Pinot Grigio. Yes, you read that right. She has her own vino called Barrymore Wines. It's delicious! I was lucky enough to have a quick chat with Drew about Flower, Barrymore Wines, and how it all came to fruition.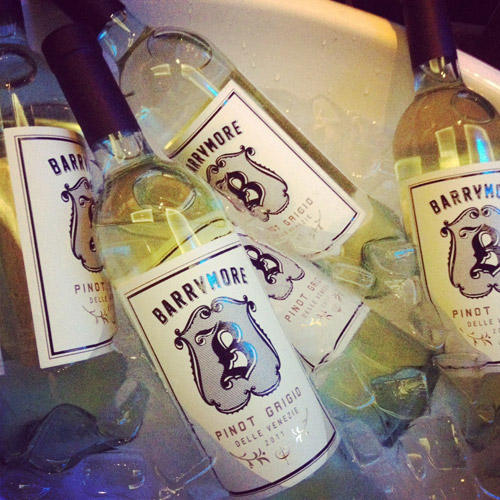 The conversation started with the seriously gorgeous color she was wearing on her lips. "Chocolate Lily," she answered as she applied the lipstick precisely without even glancing in a mirror. "When we developed this color, I had no idea that I would want to channel the '90s and it worked perfectly for that," she said. "Did you ever wear lip liner as lipsticks?" she asked. (Yes, of course I did!) "So did I," she answered enthusiastically. Then she continued to tell me how her two endeavors came about.
"They [Flower and Barrymore Wines] strangely intersected at the same time, and I was so torn because I really never put my name with things. I'm incredibly weary of celebrity culture. I've worked in this business for 35 years and I'm like, 'No! I am not a celebrity! I'll be anything but a celebrity! Call me a circus wrangler, just not a celebrity.' I don't want to do a lot of things and I haven't. And since I was a kid, I've been really weary of that. It took me a year and a half to sign with CoverGirl because we got to know each other and had the greatest relationship. So I happen to come across these two endeavors that would change my life and they started to intersect at the same time. And I was like, 'Oh my God, I never do anything and now the two things I'm doing are happening at the same time. But timing is everything. Everything does happen for a reason. I think I'm realizing that I love life so much that I have no interest in fantasy lately and I just want to do the thing I actually do in life and that's drink wine and wear makeup. It took years in the making on both these brands to realize that thought."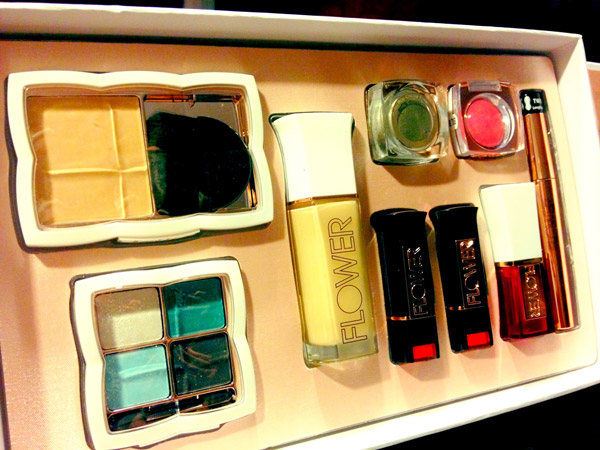 Flower will be sold exclusively at Walmart.com and Walmart stores nationwide this month. The collection includes foundations, BB creams and cream blush, to eye shadow quads, mascara and lip gloss. There is not a single type of product we can think of that Flower doesn't have. It also includes miniature versions of eye, lip, and face products – something that Drew has always been looking for. "I've always wanted to do minis and I've tried to work with a lot of companies and artists to see if we can invent one," she said. "A woman loves a miniature creation in her bag. Bags are getting smaller and makeup is getting bigger. This is not working!" The products are not just random, dinky things either. Everything from the packaging to the formulas feels extremely high end. Making luxury products for the masses was Drew's main focus, and she didn't disappoint.
"I chose Walmart, because I love the women who ran it. They were sophisticated and they were smart. It was very much like my relationship with CoverGirl; I got to know them. I trusted and respected them. And I knew the vision was the same. Again, I don't know how to put my name on things and I don't think I could succeed in that way. I knew that what they wanted to build was a brand and not a name. It was what I wanted to deliver. I played fighter in the labs. I fought for the best formulas; I wanted to design a campaign that I thought was happy. I don't relate to cold scenarios. I just don't. Happiness is the best makeup you could wear. Period!"
For someone who was never the type to put her name on something, Drew Barrymore has seriously succeeded. Her collection is truly luxurious, with exquisite formulas. The price doesn't hurt either. Kudos, Drew! 
Keywords
Get the latest beauty news and inspiration!
Sign up for our newsletter to receive the latest from Beauty Blitz delivered straight to your inbox.