Download: Stila "Color Me Stila" App
The new Stila Dream in Full Color Palette was one of our favorite palettes to feature in our gift guide. The 29 eyeshadows and seven cheek colors housed in a dreamcatcher-like compact would make any makeup junkie swoon - but it can also be a bit overwhelming. Enter the new "Color Me Stila" iPhone/iPad app. It allows you to test out every color in the palette (plus, the Holiday Lip Glaze Set) on yourself (before you go wasting perfectly good shadow on a trial run).
First, you start off by choosing an image of yourself or a model image from the gallery. Then once your tap on a part of the face, a pop-up tab comes into view with choices of eye, lip or cheek colors. You can choose the brush size, color intensity, and gloss and glitter intensity. The app also lets you zoom in on each facial feature or zoom out to see the full face at any time.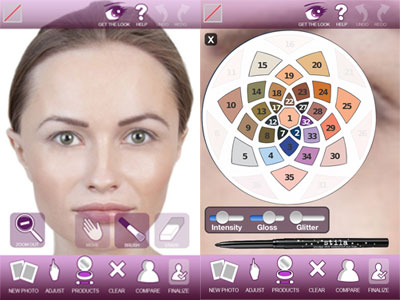 At first, I thought it would be like any other "makeover" app - completely difficult to navigate, leaving your image looking like a clown. But it's actually a lot of fun and surprisingly accurate. I love playing around with the intensity of the colors in the corners of my eyes. Plus, if your finger slips, you can erase the colors one layer at a time. This app has become my favorite way to kill time on the train to work from Jersey.
Get the latest beauty news and inspiration!
Sign up for our newsletter to receive the latest from Beauty Blitz delivered straight to your inbox.