How Double Cleansing Can Give You the Skin of Your Dreams
Have you ever washed your face at the end of the night only to ruin a perfectly good white towel with makeup residue right after? If you answered yes, then it's time to incorporate double cleansing into your routine. This ritual with origins in Japan involves washing your face twice, with two different types of cleansers, to get both oil-based impurities (like excess sebum and makeup) and water-based impurities (such as dead skin cells, bacteria and sweat) out of every crevice of your skin. But double-cleansing isn't just for removing makeup; it can benefit a variety of skin concerns, too. We spoke to Dr. Sonia Batra of
Batra Dermatology
in Santa Monica, California to learn more about this popular skincare ritual. 
According to Dr. Batra, "a double cleansing ritual is worth considering for someone who wants a very thorough and yet gentle approach to removing makeup, sunscreen and other potentially pore-clogging debris from the day. It is based on principles of solubility from chemistry: oil does not dissolve in water, and like dissolves like." This is why double-cleansing requires two types of cleanser formulas to get the job done right.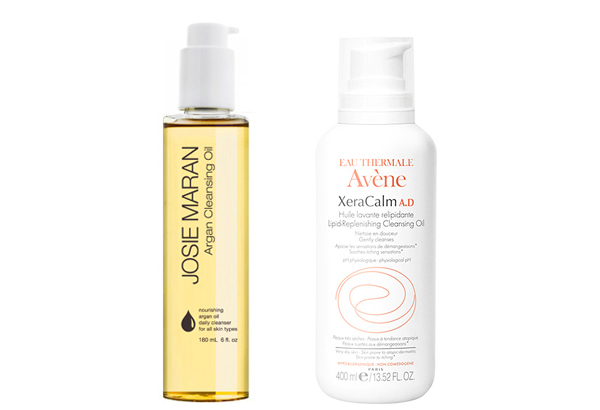 "The first step requires a cleansing oil which can solubilize oil-based products such as makeup and sunscreen, as well as remove pore-clogging sebum," says Dr. Batra. "A cleansing oil also provides moisture and soothes skin. Good choices include
Avene XeraCalm Cleansing Oil
($30) or a plant-based, cold-pressed, raw, organic oil such as Argan Oil." (Try
Josie Maran Argan Cleansing Oil
, $32). The second cleanser should be water-based. Dr. Batra recommends choosing one that is tailored specifically to your skincare needs. "For example, a hydrating cleanser such as
CeraVe for dry skin
($10.99), or a medicated cleanser such as
Proactiv+ Skin Smoothing Exfoilator
($40) for acne-prone skin," she adds. "The water-based cleanser removes sweat, dead skin or other debris and also gently exfoliates the skin."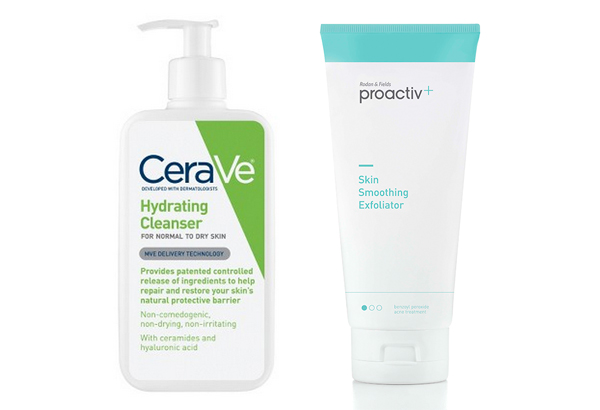 Sure, this ritual promises a squeaky clean and makeup-free complexion, but it also promotes clear skin. Acne-prone folks, we're looking at you. "While acne-prone people may be hesitant to use an oil on the skin, this skin type would benefit most from the hydration and thorough removal of debris that the double cleansing ritual provides," says Dr. Batra. "Harsh cleansing approaches that strip the skin of its natural moisture can actually cause acne flares as the skin over-produces oil to compensate for excessively drying scrubs and treatments."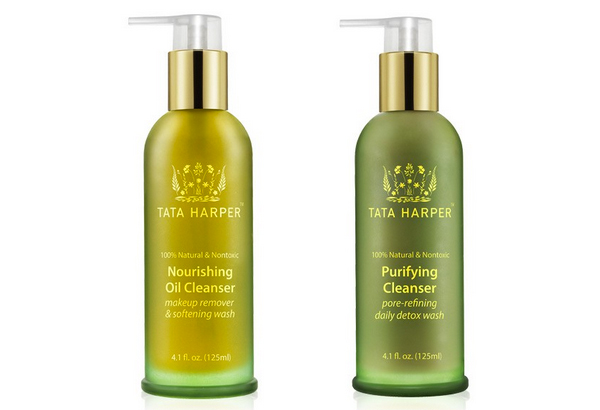 Tata Harper
, beauty guru and founder of her own natural skincare line, is just one of the many people incorporating double-cleansing into her routine. She even launched a set of cleansers that are ideal for anyone looking to start double cleansing. "I particularly love double cleansing at night because I wear makeup all day. So, I start with the
Tata Harper Nourishing Oil Cleanser
($64) to pull dirt and makeup from my skin, but also leave my skin hydrated because it's dry," she says. "Then, since I am traveling all the time, I've been counteracting the damaging effects of toxins with the
Purifying Cleanser
($58) so I can get that piece taken care of. I also love leaving it on as a mask and rinsing it off. It has been working for me because I am sure my skin is fully cleansed inside out."  
Whichever type of cleansing oil and water-based cleanser duo you choose, it's important to know how to wash your face efficiently. You don't have to scrub your face to see beautiful results. Dr. Batra says scrubbing or tugging "can cause irritation, contribute to fine lines and ruptured capillaries, or cause flares of rosacea or acne." Instead, "Incorporate a gentle facial massage with circular, downward motion for at least 30 seconds with the cleansing oil in the first step," says Dr. Batra. "This will maximize hydration and may improve circulation. While rinsing, use warm water to emulsify the cleansing oil and be sure to remove it completely. For the second step, carefully consider your individual skin needs and choose a cleanser that will also be therapeutic, especially in acne-prone skin." 
Keywords
Get the latest beauty news and inspiration!
Sign up for our newsletter to receive the latest from Beauty Blitz delivered straight to your inbox.