Dita Von Teese Shares Her Red Lip Tricks, the Real Reason Behind Her Fragrance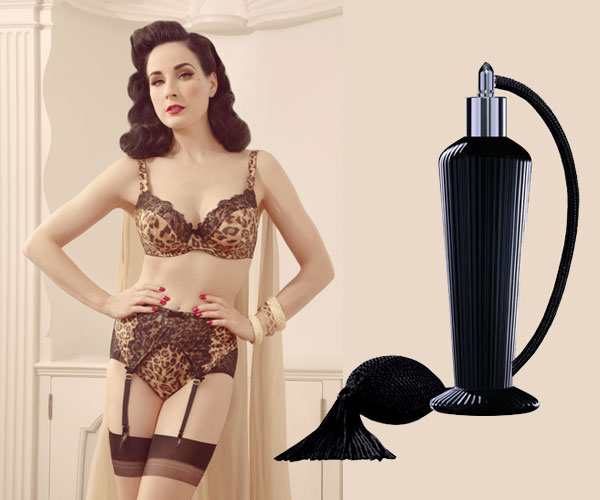 Want to smell and look like the Queen of Burlesque? I mean, no one can look as stunning as Dita Von Teese. The woman is strikingly beautiful and poised. But her sophisticated fragrances and 1940s-inspired lingerie can make any woman feel like a pin-up girl. This April, the burlesque dancer, model, and actress will debut select pieces from her Von Follies lingerie collection (tons of lace, mesh and velvet ribbons) and her two fragrances, Dita Von Teese and Rouge, on HSN. It's her largest mass retail partnership yet! I got to sit down with the Dita to talk about her fragrances (you won't believe the inspiration behind them) and how she gets that drop-dead-gorgeous red lip.
Klaudia Kaczmarek: What was the inspiration behind your fragrance?
Dita Von Teese: Well I was living in Paris and had a new boyfriend. Two weeks into the relationship he confessed to me that I wore the same perfume that his mother wore. So, of course, I had to change my perfume. Around the same time I was approached to make my own, so it was the perfect opportunity to create my own signature scent that is completely unique. I wanted something very womanly, glamorous, and sophisticated. There are no elements of gourmand, lemons, fruit, candy or any girlish things in my perfumes. They are very sophisticated and stylish.
KK: What was the fragrance your boyfriend spoke of?
DVT: It was a fragrance called Quelques Fleurs. It's a very old French fragrance. It is also a very expensive perfume so I had the challenge of creating an attainable signature scent that has that luxurious expensive scent to it.
KK: Tell me about your fascination with red lipstick.
DVT: I was about 14 years old when I suddenly discovered what lipstick can do for the face - how a vibrant color can change the way you feel. I've just had a love affair with lipstick ever since. I love bright colors on the lips. I love matte bright orange, fuchsia, burgundy, dark fuchsia - all different shades of red. It's more than just red for me. It's that splash of color that makes a difference in my day-to-day life. It's an easy way to get glamorous quickly.
KK: What's the trick to getting your perfect red lip?
DVT: I always line with lip liner first. I really like a deep lip liner. I choose something darker than my lip color at times because I like the depth a deep, magenta-tone red can do to any color of red lipstick. So I always line and fill in my entire lip with lip liner. Then I go over it with the lipstick straight from the tube. I also go around the edges at the end with lip liner again - that's my little trick.
KK: Besides red lipstick, what other beauty product can't you live without?
DVT: Sunscreen is really important in my life. I've managed to reverse sun damage that I had from not understanding how important it is to use sunscreen when I was younger. So I'd say sunscreen is very important to me. Face powder, also, because I love the way red lipstick looks on matte skin.
KK: What inspired your signature half moon manicure? I know your mom was a manicurist; did she play a role in that? 
DVT: I started doing the half moon manicure around 1990 because I was looking at all these vintage photographs from the 1940s. And if you look really closely, some of the women left the moons bare. So that's when I first started having my mother replicate that retro style manicure. I've been wearing it for 20 years.
KK: What other tricks have you learned from being in front of the camera and on stage?
DVT: I always try to analyze how I look later. I do my own makeup for the red carpet so I'm always analyzing what works and what doesn't. Lighting changes everything so I learn as much as I can about lighting and how stage lighting affects colors. In general, I just don't think it's a bad idea to analyze the work in photos later just to see what kind of makeup to wear for any kind of snapshot photos; to see how it looks under a different light.
Catch Dita on HSN on April 23rd and shop the Von Follies collection at HSN.com on March 23rd!
Keywords
Get the latest beauty news and inspiration!
Sign up for our newsletter to receive the latest from Beauty Blitz delivered straight to your inbox.