Currently Coveting: Gradual Tanners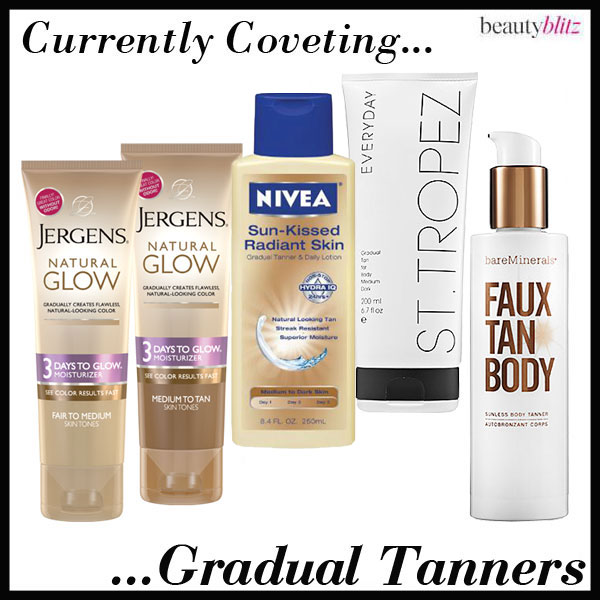 It's the time of the year where we find ourselves in a variety of dilemnas. Transitioning from winter to spring can be really annoying. The weather is warm, then freezing, then warm again - so who knows what to put on in the morning? Allergies are starting to sneak up on us. And our pale skin is just dying for some color. Gradual tanning lotions are a must-have for this weird time. They allow your skin to develop a beautiful faux glow that's season-appropriate and won't look like you're trying too hard. Leave the crazy dark tan for the summer and start with a hint of color now. You can work your way up eventually; it'll look much more natural. Check out our favorites below!
Jergens Natural Glow 3 Days To Glow Moisturizer ($8.49)
We didn't think Jergens could top their original Natural Glow formula, but they proved us wrong. All it takes is three days of applying this antioxidant-rich lotion on your bod to get a full shade darker. It looks natural and doesn't stink like a self-tanner.
Nivea Sun-Kissed Radiant Skin ($9.99)
This gradual tanner is ideal for dry skin. The advanced moisturizing formula provides all day hydration while Hydra IQ leaves you with a natural looking tan in just five days. We love the fresh scent of grape seed oil, too!
St. Tropez Everday Gradual Tan for Body ($30)
This gradual tanner with skincare benefits is infused with soothing aloe vera to give you silky smooth skin with a beautiful glow. Apply it as often as you want to get the color you desire.
bareMinerals Faux Tan Body Sunless Body Tanner ($26)
Get beautifully bronzed immediately with this gradual sunless tanner. You get the faux glow right away, and then it develops into a natural looking tan that lasts for up to a week. Want an even deeper tan? Apply more and more until you've reached your desired shade.
Keywords
Get the latest beauty news and inspiration!
Sign up for our newsletter to receive the latest from Beauty Blitz delivered straight to your inbox.