Bridal Beauty at Imitation - NYFW Spring 2012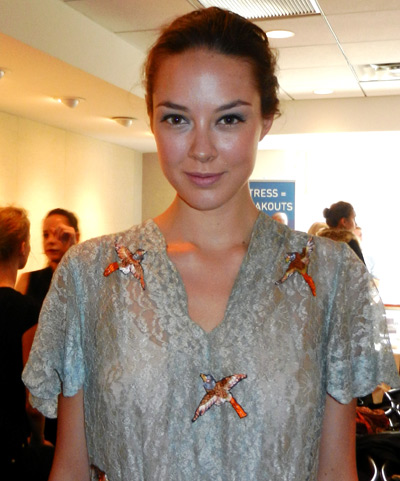 "The last show was the engagement party; today is the wedding," said makeup artist Gina Brooke for Hourglass Cosmetics. Designer Tara Subkoff's vision of wedding day beauty is quite soft and romantic, especially considering the hair was adorned with floral garlands (which was a part of the finished look, but I unfortunately wasn't able to find a model).
Both the makeup and nails focused on looking natural with a tiny hint of sparkle. "The key element of the look is clean, flawless beautiful skin," Gina said. And while the makeup look was void of any real color, the eyes popped with icy blue, golden and silvery eyeshadow depending on the models' complexions.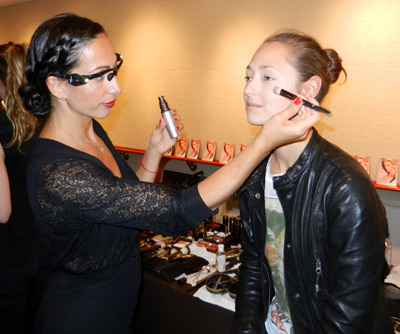 "You want to apply foundation in a good light," Gina said. "That's why I wear headlights." She let us snap a shot of her with her light-up headgear, which she can't work without. "If I do it without it, it's like doing her makeup in a closet," she continued. "I don't want the skin to look like you're wearing foundation. If you already have great skin, you don't have to put foundation all over the face. I basically just use a little foundation under the eyes, around the nose, on the chin - wherever there's redness." She finished the look with a touch of Hourglass Aura Cheek Stain in Flush on the cheeks and the lips.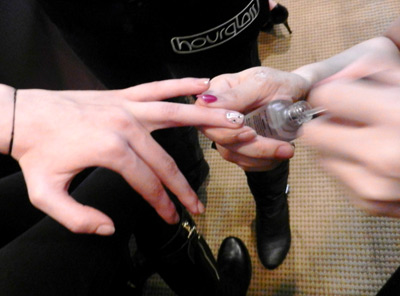 Lead manicurist Kumiko Kano for Color Club created the understated nail art for Tara, the designer. "She wants to keep it simple, but have a hint of nail art - classy, subtle nail art," Kumiko said.
A flesh toned shade called Incognito was used on all the fingers, and the ring finger was accented with stripes of silver glitter polish and rhinestones. And in case you're wondering what Color Club is, it's actually been around for 30 years in the professional market, but it just launched for consumers this past August. You can check out Color Club's range of polishes and nail art tools at
shopcolorclub.com
.
Keywords
Get the latest beauty news and inspiration!
Sign up for our newsletter to receive the latest from Beauty Blitz delivered straight to your inbox.