The Body Shop Supports Big Cats with a Little Lip Balm
If you know me, you know that I am a die-hard animal lover. I'm the girl who prefers to hang out with your pet when she visits you, and makes you change the channel
the second
that dreaded ASPCA/Sarah McLachlan commercial comes on.
So when The Body Shop asked me to join them in Tampa, Florida to visit the Big Cat Rescue, a sanctuary for abused and abandoned big cats (think tigers, lions, bobcats, cougars, etc.), I absolutely could not say no.
You may be wondering what The Body Shop has to do with large felines. It's pretty simple. Now through August 2014, the proceeds of every purchase of the brand's
Dragonfruit Lip Butter
($6) will be split among three organizations, one of which is the Big Cat Rescue. Here's why they deserve it. 
About Big Cat Rescue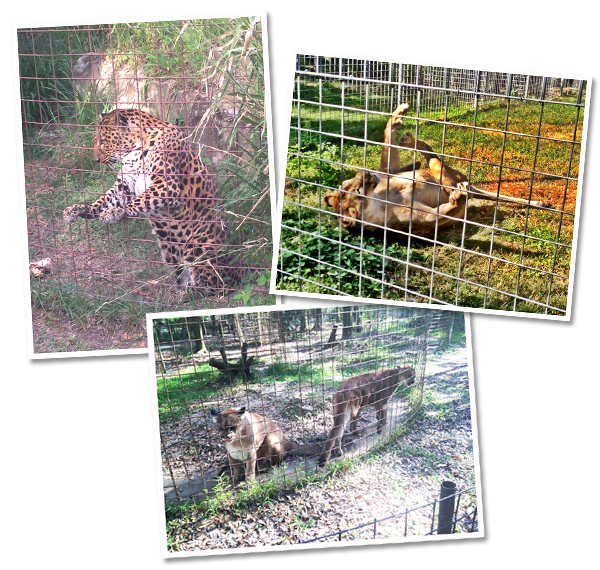 The sanctuary's main priority is to put themselves out of business - seriously! Founder Carole Baskin started the non-profit in 1992, and she's been fighting for the well being of captive big cats ever since. Her journey started when she spontaneously rescued a pet bobcat from an exotic animal auction. She later found herself at a fur farm, rescuing 56 kittens from being slaughtered for their fur and buying the rest of the cats in exchange for the breeder quitting the slaughter altogether. Did I mention Carole is one of the best people I have ever met?
Now, 22 years later, Big Cat Rescue is the largest accredited exotic cat sanctuary in the world. The 55-acre facility is home to 14 species of wild cats that have been abandoned by their owners (who thought they would make good pets - they don't), forced to perform in circuses, retired from performing acts and saved from being turned into fur coats. Many have been living at BCR since they were babies, when their mothers were hunted down for their fur.
End Cub Petting
During the trip to Tampa, my fellow beauty editors and I were given a tour of the entire Big Cat Rescue facility. We met all of the extraordinary animals who call BCR their home and learned about how the facility's hundreds of volunteers and workers spend their days caring for all of the animals. We also met Carole's husband and BCR Advisory Board Chairman Howard Baskin, who told us about
cub petting
, something many of us have never heard of before (and wished wasn't true).
Imagine being taken away from your mom as a baby and brought to a mall for people to play with you. That's cub petting. Breeders who call themselves "rescuers" from so-called "sanctuaries" charge people money to pet and take photos with baby tigers. Although it is legal, it's basically torture. These cubs get tossed around like rag dolls and are forced to function all day with zero rest. It's actually sickening to watch (I was in tears during Howard's presentation, obviously) and sends the wrong message for exotic animals as pets. Luckily, Howard is working on ending cub petting all together, but you can help, too! If you ever see something like this at your local mall, please don't give these breeders your money. If the profits aren't rolling in, then they won't have a reason to be there.
Life at Big Cat Rescue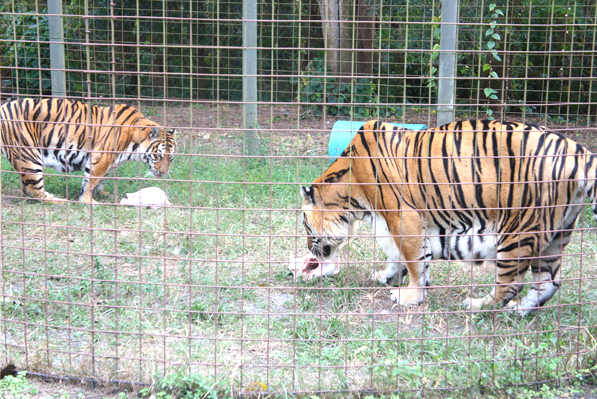 Now that I've depressed you with the sad truth, I wanted to introduce you to some of the beautiful felines that live at BCR and show you how they spend their time in their forever home. Each animal is given a massive amount of space to roam around and play. Some are even placed in their areas with their besties and siblings! There are ponds for them to cool off in, plenty of pumpkins for Halloween and turkey on Thanksgiving. We witnessed
Shere Khan
and
China Doll
enjoying their turkey treats (see photo above).
Pumpkins and turkeys are not just ordinary treats for the felines. They are a form of enrichment that BCR gives the cats to make their lives more interesting. They get scented toilet paper tubes and baggies of herbs and spices rolled into balls to play with. We even got to make some forms of enrichment for the kitties.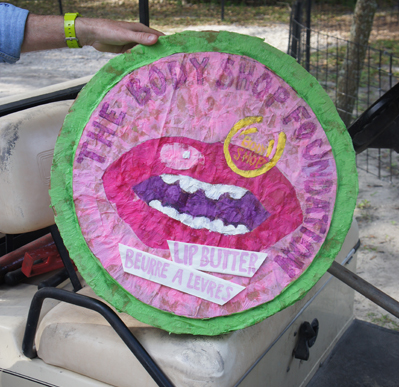 In honor of our trip to BCR, the volunteers created a mock Dragonfruit Lip Butter to give
Bengali
the tiger as a form of enrichment (see photo above). It was basically a paper mâché of the lip balm filled with a variety of new scents. Adorable, no?
The Body Shop Foundation's Help
Aside from offering proceeds of sales of the Dragonfruit Lip Butters to BCR,
The Body Shop Foundation
has donated $10,000 to Big Cat Rescue! The money was used for new
automatic backup generators
to power all of the food storage freezers incase of a power outage or emergency.
Visiting Big Cat Rescue was such an amazing and eye-opening experience for me. Every big cat there has a place in my heart. If you're looking for any last-minute stocking stuffers, treat everyone you know to a Dragonfruit Lip Balm and help my new friends out for the holidays. For more information about Big Cat Rescue and to find out how you can help the beautiful felines, visit
BigCatRescue.org
. 
Keywords
Get the latest beauty news and inspiration!
Sign up for our newsletter to receive the latest from Beauty Blitz delivered straight to your inbox.