7 Natural Skincare Products That Deserve Their Cult Status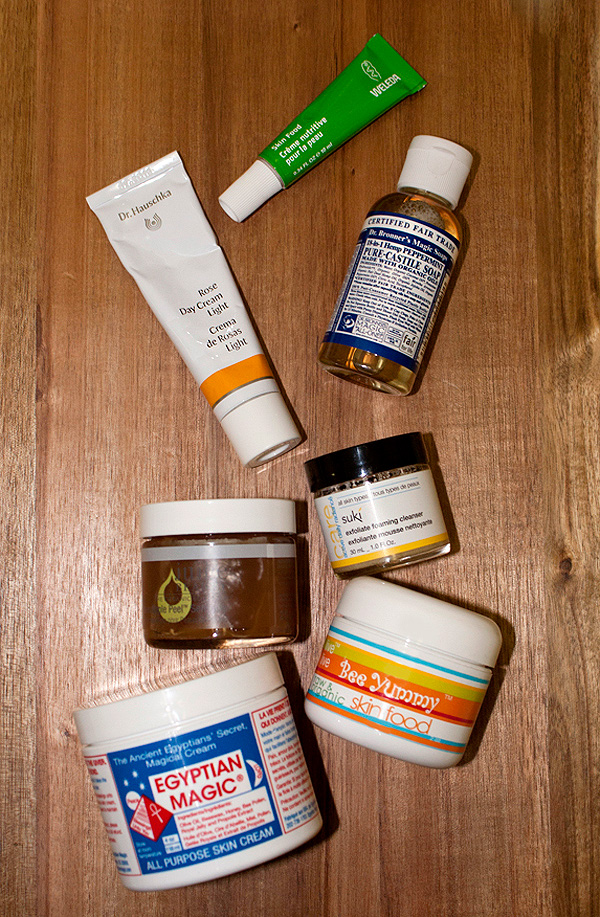 Adopting an all-natural beauty routine isn't always as straightforward as it might seem. Some health food store potions just don't work that well; other brands that market themselves as "natural" pair sketchy manmade ingredients (like parabens) with their essential oils and plant extracts. Sure, you could slather your entire face and body in cold-pressed coconut oil, but where's the luxury in that? These cult favorite, real-deal-natural skincare products not only work magic, they're a treat to use. 
Live Live Bee Yummy Skin Food
Cara Delevingne sang this cream's praises when we asked her about her skincare routine. The raw and organic concoction of honey, bee pollen, propolis, royal jelly, St. John's wort oil and balsam fir needles isn't just supermodel-endorsed, it has serious healing power for irritated complexions thanks to its ingredients' nutrient-rich and antibacterial properties.
Egyptian Magic 
Like a natural version of petroleum jelly, this all-purpose salve has dozens of uses. Not only does it instantly soften dry skin, it can be used to groom brows, remove makeup, as a lip balm, as a moisturizing mask for hair and to treat cuts and burns. (We've
spotted its familiar tub backstage
at many a Fashion Week show.)
Dr. Bronner's Magic Soap
"Enjoy only 2 cosmetics, enough sleep & Dr. Bronner's 'Magic Soap' to cleanse body-mind-soul-spirit," the tiny-print rant on this all-natural castille soap's bottle advises. While we're not so sure we can limit ourselves to a couple cosmetics, any cleanser that can be used on face, body and dishes is a win in our opinion. We especially love the peppermint scented version as a hand soap.
Suki Exfoliate Foaming Cleanser
The rounded sugar crystals in this foaming cleanser gently polish skin to leave your complexion smooth and even. Plus, it smells like delicious lemon meringue pie.
Dr. Hauschka Rose Day Cream Light
This lightweight lotion makes the perfect primer for makeup, since it hydrates the skin without leaving a heavy residue. Rose water, rose wax and extracts of rose, marsh mallow and anthyllis help to calm and balance skin — and also give the cream a scent that's like an English garden in spring.
Weleda Skin Food
This cult favorite staple isn't just an amazing hand cream; it soothes dry, rough patches on the face and body, too, and calms irritation with organic calendula flower and rosemary leaf. Plus, the company harvests ingredients from its own gardens using sustainable, biodynamic methods.
Juice Beauty Green Apple Peel Sensitive
Naturally-derived doesn't have to mean wussy. Juice Beauty's fruit acid exfoliating peel packs a dead skin-sloughing punch, but it's also mild enough for all skin types to use. The 10-minute treatment leaves skin soft and promotes cell turnover to minimize wrinkles, clogged pores and dark spots.
Photo by: Taylor Cox
Keywords
Get the latest beauty news and inspiration!
Sign up for our newsletter to receive the latest from Beauty Blitz delivered straight to your inbox.