Beauty Wisdom from Legendary Makeup Artists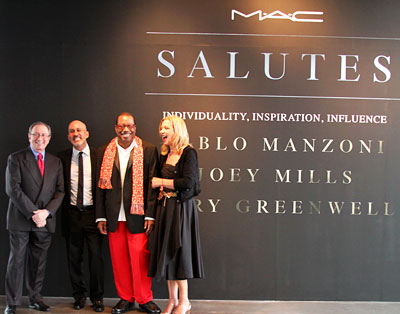 Photo: Courtesy of MAC
Honorees Pablo Manzoni (left), Joey Mills (center right) and Mary
Greenwell (right) pose with the VP of Makeup Artistry for MAC, Gordon
Espinet (center left).
Every year and a half or two, MAC Cosmetics hosts the MAC Salutes event honoring those who have made quite a stroke in makeup artistry. This year three legendary makeup artists - Pablo Manzoni, Joey Mills and Mary Greenwell - were all celebrated atop the Glasshouses in the Chelsea district of Manhattan.
These veterans of the beauty biz have seen and created beauty history, working with cultural icons like Jackie O, Yves Saint Laurent and Linda Evangelista. I was fortunate enough to talk to these makeup masters and get a look into what made the beauty industry over that last half century.
After working in the corporate world at Elizabeth Arden, Pablo left in the 1980 to set up his own studio in New York. "It used to be a maid's room in the Ritz Tower, which was wonderful at that time because John Demsey [the current Group President of Estee Lauder] used to live in the tower," Pablo said. "And I used to ambush him whenever [MAC] would discontinue something that I like."
Even when John Demsey moved out of the building, Pablo still made sure he got his MAC favorites. "MAC has the great quality of being two things: being very forward and very inexpensive," Pablo explained. "Being very forward meaning it can be very wild, but also, since it's very inexpensive, younger people can afford it."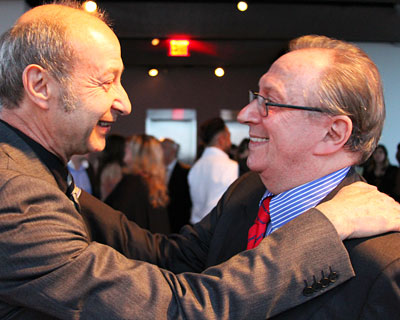 Photo: Courtesy of MAC
Pablo embraces longtime friend Harry King (left), a hair stylist and photographer.
One of Pablo's musts is a good set of falsies! "I happen to like false lashes, as they are a very beautiful, flirty thing," he said. Pablo recommends trimming them to make sure they suit the individual for a custom fit. "They have to be applied with tweezers in the center of the eye, pinched together with the real ones, and then you lower the two ends."
Pablo has created everything from fantastical creations on models to more wearable looks for socialites and royalty. While he may be retired, he would still love to work some magic with Lady Gaga. "She's only interested in shocking," he said. "Maybe we can invent something new...She's already in Year 3000."
And while Pablo's looks run the gamut, Joey Mills realized his signature look was about the classics. "I didn't know it then, but my makeup style and look was designed when I was 11 years old" Joey said. "When I was 11, I used to watch TV with my mother, and I fell madly in love with Grace Kelly. And if you look at my work, every face has a Grace Kelly touch - meaning perfect eyebrows, symmetrical face, and if you didn't have it, you created it."
Joey's signature look was in high demand. "By 1981, I was averaging five to seven covers a month. I was doing Mademoiselle, Glamour, Harper's Bazaar, Vogue, and I did a few Seventeens," Joey said. "Then I went off to Europe and I did Gianni Versace, and my favorite: I was flown to Paris to do Yves Saint Laurent - not Tom Ford, the real YSL."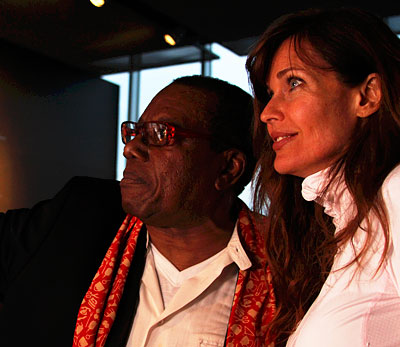 Photo: Courtesy of MAC
Joey with model Carol Alt.
Joey was in between fashion shows and working on looks for designers like Ralph Lauren, Calvin Klein, Chanel and Dior. And when he wasn't working with fashion houses, he was creating covers for top magazines. "I was averaging seven covers a month for years" he said. "In the 80s you weren't given a guaranteed cover, it was only a cover try. That's why in the 80s the actresses never really got a cover unless you're Sophia Loren or somebody. Because they do a cover try that was presented to the editorial director of Conde Nast and they would pick it. For some reason every one I did was picked."
Like Joey, Mary Greenwell was a part of the supermodel explosion of the 1980s. After working the makeup counters during the 70s, Mary left Los Angeles and headed back home to London.  
"I went back to London in the 80s, then I thought, what am I going to do with my life? I'm going to do what I can do, I can be a makeup artist. So I went to Paris in 1984. It was the year of the supermodels. I think it's the most amazing experience ever."
Luckily, Mary wasn't creating that stereotypical 80s look we all think of. "In the beginning of the 80s, it was completely pure nothingness, gorgeous faces, really simple, divine product, divine simpleness."
According to Mary, the trick to looking great is looking natural. And to perfect that means less is more.
"Skin is the most important thing. It's about the primer, foundation, concealer, spot cover up, highlighter. It's about all the things that would help the skin. What will make makeup look too much is not the skin. It's actually too much on the eyes, too much on the cheeks blush-wise," Mary explained. "When the eyes are too made up you would look immediately too made up...If you work the skin properly with the right products you'll look completely natural."
Mary has a true appreciation for the evolution of face products. "The R&D in makeup is beyond extraordinary. I think the textures, the foundations, the products, are made to make you look more and more real...I cannot believe the new textures that come out every year. I can't believe that a company comes out with something that is so beautiful all the time, and MAC is a great example of that. This is why MAC is so successful. They really want to try new textures, new products, new whatever."
The product innovation is only a part of the change since these legendary artists first picked up a brush. "All of that internet stuff that came in the 90s, changed not only for fashion and beauty, but for everybody," Mary said. "Now it's a lot more about money, a lot more about power. Things that don't make it less artistic but far more commercial and just as fabulous, by the way. It's much more instant. The instant world we live in is quite extraordinary."
Keywords
Get the latest beauty news and inspiration!
Sign up for our newsletter to receive the latest from Beauty Blitz delivered straight to your inbox.