A Ballerina's Beauty Secrets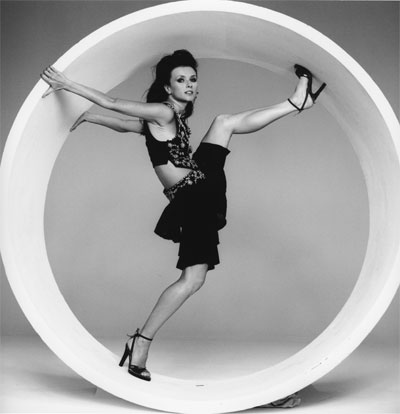 Ballet dancer Irina Dvorovenko
Since watching Natalie Portman's Black Swan dressing room freakout, I've wondered what actually goes on behind the scenes of the ballet. Surely it isn't all lipstick theft and jailhouse-style glassings, right?
Luckily, Irina Dvorovenko has set me straight. She may be performing the lead role tonight in the American Ballet Theatre's production of Swan Lake, but Irina is no Black Swan. The Ukraine native has been a Principal Dancer at ABT since 2000, starring in Romeo and Juliet, Sleeping Beauty, The Taming of the Shrew and many more performances. And she's a certified style icon offstage, too (check her out, looking gorgeous all over Style.com). Here, she reveals what it's really like to be a ballet dancer, from the creative process to the pancake makeup.
Beauty Blitz: It's hard to think of Swan Lake right now without thinking of Black Swan. What was realistic about the film's portrayal of ballet dancers, and what wasn't? And do you really do your own makeup during performances?

Irina Dvorovenko: There was some truth to the movie and it was good that it got ballet more attention, but I don't agree with a lot of things in the movie. Ballet dancers do all suffer through physical pain and do suffer through emotional insecurities. We do search for own personality and life but not the way they do in the movie. I also think that there was some lack in showing the extreme work and artistry that we have in ballet. I actually do usually do my own hair and makeup for our performances unless it's something very extreme, in which case we have makeup artists who help.
What are your secrets for managing the stress that comes with long hours of rehearsing and performing?
One difficult side of being a ballet dancer is the stress. The combination of being an artist and being confident and physically suffering through pain or injury doesn't work well with your mind. When you're hurt you become vulnerable and can be upset more easily. De-stressing doesn't really happen. You just exhale at the end of a season and inhale when another begins. You're constantly thinking about performances and preparations; it's a very creative process. Real artists are thinkers - the way they want to be shown and the message of what you want to say. You break out, get blisters and you can't avoid it, but the desire to be on stage and to be number one, nothing could beat it. It's an amazing feeling to be the center of attention for 3,000 people when you're on stage. It makes all the stress worth it. Nothing could beat this. Even if I limp in the wings, I'll fly on stage.

What are some job-related beauty issues particular to your line of work - major blisters, breakouts from stage makeup, breakage from super-tight hairstyles? How do you deal with them?
I get all of it! We take a lot of anti-inflammatories to help our bodies, which can help with breakouts and blisters. Blisters have to just keep being wrapped, or else our shoes will just cause more and more damage every practice. With hair, I do get breakage from the tight hairstyles, but I just get haircuts at the end of the season to keep it healthy. I have a wonderful hair stylist, Ishi from Salon Ishi, who I love. They are big ballet fans there and they always help treat my hair after I have performances.
Can you share any backstage beauty secrets that non-dancers might not know about?
One of my favorite tricks is Colorstay lip color, like the ones by Maybelline and Revlon. We kiss a lot in the ballet and it keeps it from getting everywhere. I always mix up my personal makeup with some Chanel products, and I love Cle De Peau foundation. Mascara I change all the time, but I like Bobbi Brown. Our makeup is all stage makeup, and it's all pancake so that when you sweat, it doesn't drip at all. Otherwise, it'd get on each other's costumes. We also have waterproof lash glues and a lot of hairspray, pins and pain. Sometimes we have very heavy headpieces that we have to pin like crazy. By the end you want to take your head off!
You always look so glamorous in photos from events. How has your work as a dancer inspired your own personal style offstage?
Thank you! Being a dancer for me is being a part of a very exclusive and elite society. I feel like I should always be portrayed as glamorous and beautiful. So, my personal style is based on always trying to accomplish that look of glamour and uniqueness that I feel like a dancer should have.
Keywords
Get the latest beauty news and inspiration!
Sign up for our newsletter to receive the latest from Beauty Blitz delivered straight to your inbox.