Are Nail Feathers the New Hair Feathers?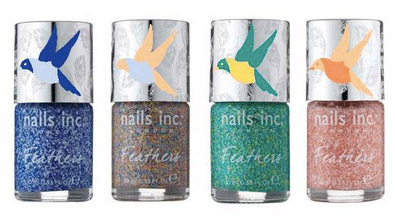 We have to be honest; we're so glad the hair-feather trend stayed in 2012. It lasted a lot longer than it needed to. We're pretty sure the birds of the nation are happy about it, too. With that said, there is a new feather trend in town. But, thankfully, it doesn't require running to your nearest tackle shop to get in on it. Nails Inc. is launching a collection of nail polish top coats called Feathers, and they actually make your nails look like a bird's coat. 
The collection features four different color combinations: Brighton, a teal and yellow combo; Cornwall, a blue and white, York, a peach and white color combo; and Edinburgh, a pale blue and peach. We tried Brighton over Essie polish in Haute as Hello (see images below). It's the perfect spring combo!
The polish isn't made with actual feathers, it's more like sprinkles in a clear topcoat. All you have to do is apply it over any nail polish and top it off with a topcoat. It goes on a little thick and sometimes the "glitter" bundles up together in one spot, but it's easy to spread out. At first, we weren't sure why the collection was called Feathers when, in reality, it was more of a matte glitter. But once we tried it on our nails, it did actually look like our nails had feathers. Pretty cool, huh?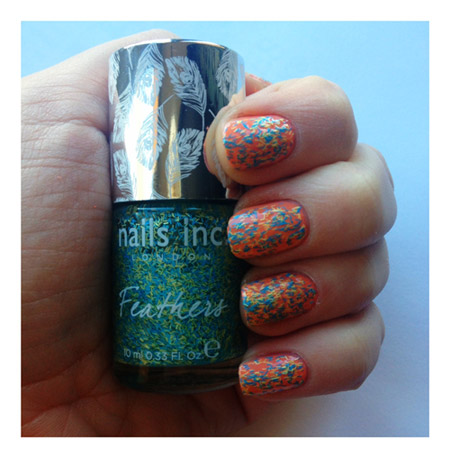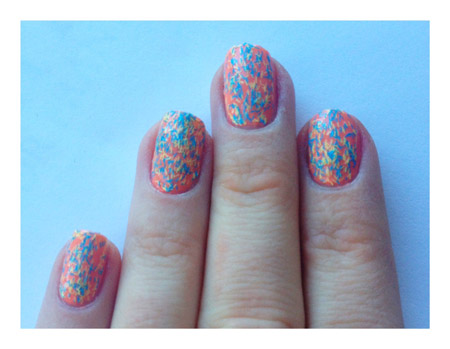 The Nails Inc. Feathers collection will be available for $9.50 (each) at Sephora this February. 
Keywords
Get the latest beauty news and inspiration!
Sign up for our newsletter to receive the latest from Beauty Blitz delivered straight to your inbox.