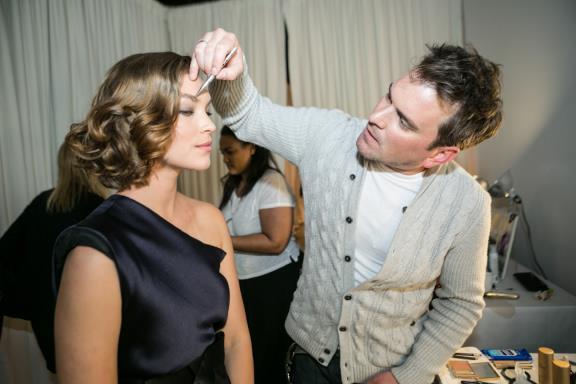 If you haven't paid close attention to your brows lately, it's time to get involved. Thanks to models like Cara Delevingne and Arizona Muse, perfectly groomed brows — whether bold and bushy or sleek and tamed — have become a must-have accessory. Until I started filling in my own brows, I didn't realize how much of a difference they made for my look. I haven't left the house without doing something to my arches since. Getting the brows of your dreams doesn't have to be a daunting task.
In fact, with these helpful tips from brow wiz and Esteé Lauder Director of Global Makeup Artistry Blair Patterson (he does Arizona Muse's brows!), it's really simple.
So whether you pluck your own arches at home, or get them waxed or threaded by a pro, live by these easy brow rules and get on Cara and Arizona's level in no time. 
1. Pay attention to the tail.
"Always be sure to extend the tail of your brow. A perfect tail gets thinner towards the end and tapers off about half an inch under the highest point of the arch. Use your bottom lash line as your guide and imagine an invisible line from the bottom lash line out towards the temple." 
2. Keep the climate in mind. 
"I think the choice of brow product to use is first primarily dictated by the ease of the product. If you are not comfortable with brow techniques, a powder might be easier to start with; if you are brow savvy, a brow kit with stencils, highlighters and pencils might be your preference. However, no matter your skill level, always be cautious of the environment you live in. Hotter climates require products that won't smudge or move once applied and require more steps of application to ensure they stay in place."
Eyebrow idols Arizona Muse and Cara Delevingne (Photos: Getty Images)
3. Consult inspiration photos.
"The best way to grow out your brow in order to reshape it is to have a visual guide. Pull pictures from magazines of the brow you are trying to achieve and tape it on your bathroom mirror or keep it in your makeup bag so when you are doing your brows you have a visual reference of what to pluck, what to keep and how to fill them in. Don't go free hand or 'eyeball' the plucking as you shape them over time."
4. Choose a color based on your makeup look. 
"I always tell my clients to think about the eye look they wish to create before they choose a brow color. For more dramatic eyes, I always say go one shade lighter in the brow than the natural hair to open up the eye and soften the overall effect of the finished makeup. If you are doing more a natural eye with and a statement lip, I say use a color in the brow that is the exact match for the natural hair. This will define and frame the eye without it looking too heavy. For a super natural, 'I woke up like this' makeup, go half a shade darker in the brow than the natural hair color to define the eye area and give a point of focus to the face." 
5. If you have platinum, silver or gray hair, add dimension with eye shadow.
"I love silver or white hair on a woman. To me it says confidence in age and style, and is sexy because their age is embraced and owned. What I do with these brows is start with a base product in pencil form that is the exact match for the lowlights in the hair or is the same color of what the hair color used to be. Then, using a spoolie brush and eyeshadow, I dust the shadow in the same color of the highlights in the hair. Silver, white, grey, platinum, dusting shadows over the hair ads dimension and light to the brows while defining and adding continuity to their natural hair color." 
Keywords
Get the latest beauty news and inspiration!
Sign up for our newsletter to receive the latest from Beauty Blitz delivered straight to your inbox.