13 Indie Beauty Brands to Know Now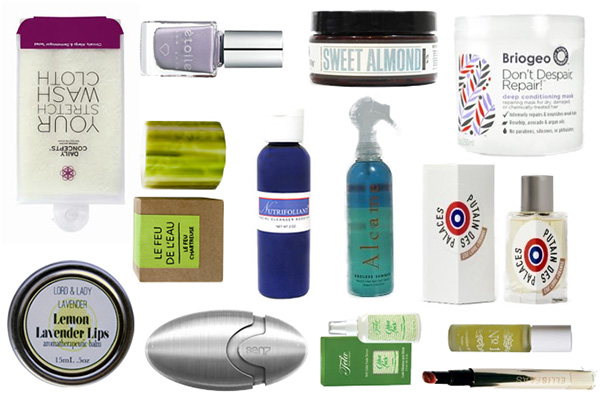 There's something so Robert Frost "The Road Not Taken" about discovering a cool, obscure line with a beguiling backstory to boot. In the paraphrased parlance of famous philosopher
Ne-Yo
, these brands, they've got their own thing; that's why we love them. Here are 13 of the best budding beauty brands you haven't heard of — yet. 
1. Briogeo 
We admit that the hair realm is pretty much the last place we want to go natural. And yet, natural haircare brand Briogeo's shampoo and texture-focused conditioners are inspiring us to bust out hippie-commune phrases like "my cup is really full" and "I'll do that when Mercury's no longer in retrograde." Most importantly? It's resulting in hippie-commune hair, in the best way possible. Hydrated, perfectly twisty and in great condition, as if you've eschewed heat tools for the past decade in favor of seeking free love. Our favorite item from the line?
Don't Despair, Repair! Deep Conditioning Mask
($26). Infused with rosehip oil, biotin and keratin protein, it mends ends in just 3-5 minutes.
2. Southern Hospitality
This charming brand, the likes of which a young Blanche Devereaux of
Golden Girls
fame may have enjoyed, was created by a Southern podiatrist and his "business-savvy belle." It boasts a bevy of beautifully packaged natural foot-care products. Our picks? The
Sweet Tea Foot Soak and Sweet Almond Foot Cream
 ($7). We like to slather it on while watching reruns.
3. Lord and Lady Lavender
This company was founded in 2004 by musicians Elizabeth McNamara and Jerry Ashford. The duo traded the California Bay Area for the quiet of small-town vibe of western Oregon and made it their mission to produce all-natural lavender products that contained real and abundant lavender. We adore all of their lavender-infused lip treatments, but the bright citrus flavor of
Lavender Lemon Lips
 ($7.50) has won over our hearts and hydrated our pouts.
4. Etoile Nail Polish
The story behind this diamond-infused nail polish? Etoile founder Erin Farber lived for years in Europe, where manicures are treated as a special indulgence, and she was inspired to incorporate that idea of luxury into the lacquer itself.
Misty Romance
 ($18), a lilting lilac, reminds us of Revlon's Ultra Violet, a discontinued '90s shade that we still miss to this day. 
5. Le Feu de L'eau
This candle line was created by celeb makeup artist Jo Strettel and designer Wendy Polish. The range boasts candles that are created without using a mold, but instead are sculpted using water. Hence the name, which translates to "the fire of the water." We're partial to
Le Feu de L'eau Le Feu Chartreuse
 ($72).
6. Etat Libre D'Orange
Etat Libre d'Orange is a shock value-driven indie perfumerie based in Paris that treads the line between fabulosity and vulgarity.The brand boasts crazy combos like Jasmine & Cigarette — riveting raunchiness at its finest. Our pick is Putain des Palaces ("Hotel Slut" in English), a fragrance that blends floral, leather, mandarin, ginger and animalic notes. Rock it if only to have a reason to tell people you're wearing eau de hotel hussy. $80 at New London Pharmacy
7. Daily Concepts 
No more bacteria-harboring loofahs. This brand boasts exfoliating scrubbers that tell you when it's time to replace them. Each skin buffer features a label with an indicator that fades to let you know when it's time to retire the cloth. Try the
Daily Concepts Your Stretch Wash Cloth
 ($16), which stretches to exfoliate the heck out of your back and even comes in a convenient little plastic pouch for easy portability.
8. Joya No.1
If you'd die before donning a mass perfume and harbor a penchant for '80s scent Design, Joya No. 1 is about to become your slow jam. The beauty of an indie scent is that have your own signature scent that's "special snowflake" unique.
Joya No. 1
($28) is a stunning yet subtle citrus blend, with a blossomy floral center that's tempered by a sexy base of sandalwood. It's an easy, light, pretty perfume that's portable and long lasting.
9. Nutrifoliant
Bring the benefits of microdermabrasion to your regularly scheduled face wash with
Nutrifoliant Facial Cleanser Booster
($34) from Nutrient Skin Care. The booster, which can be added to the cleanser of your choice, contains exfoliating crystals combined with powdered nutrients to deliver nourishment to the skin in a simple, concentrated formula.
10. Tela Organics
We're fans of getting the most bang for our color buck. To that end, natural brand Tela Beauty Organics has created
Color Lock Anti-Color Fade Serum
($36), which minimizes damage during color processing by sealing in color while protecting the hair and scalp. It's added to the color mixture in-salon, but the same blend of sunflower seed extract, canola seed oil and coconut protein can be used at home to maintain results in between color visits. After shampooing and conditioning, remove excess water, apply Color Lock from roots to ends. Leave it on for one to two minutes, then rinse and style as usual.
11. Sen7 Fragrance Atomizer
Our teensy atomizer funnels are lazing about in some Beetlejuice-esque netherworld, along with all of our Barbies' shoes of yore.
Sen7
has the solution: Just remove the spray-cap from your fragrance, sit this little bullet-shaped atomizer ($40) on top of it and you can suck up as much of your olfactory favorite as you'd like to take with you. No tipping, no funneling, no headache — and your atomizer will fill up with a travel-sized amount of your favorite scent. We find the fetching silver color to be very 007.
12. Alcamé
Fellow beauty historians: Do you recall the epic John Frieda Ocean Waves salt spray, A.K.A. the first one to market about 11 years ago? It was a bi-phase hydrating spray that simulated the ropy texture and sea salt-infused body your hair takes on after a day at the beach. Once it was discontinued, we were buying bottles on eBay for years after. Well, the hair professional who originally came up with Ocean Waves has launched a salon-only iteration that's even better:
Alcamé Endless Summer Beach Sea Salt Spray
($20). Packed with tropical and natural oils and styling agents, this spray yields texture, shine, hold and moisture.
Reunited and it feels so good…
13. Ellis Faas 
This makeup brand is influenced by the colors of the human body. Founder and makeup artist Ellis Faas noticed that the best way to add shadows or take them away to enhance beauty is with the colors found naturally in the skin or under the skin. The shades evoke anatomical hues: veins, blood and freckles. Our pick?
Ellis Red
lip color ($35), which comes in three textures: creamy, milky and glazed.
Keywords
Get the latest beauty news and inspiration!
Sign up for our newsletter to receive the latest from Beauty Blitz delivered straight to your inbox.