Under the Radar Brand: AmorePacific
France and Japan may be major players in the skincare market, but Korea might be one of the next it-skincare destinations (hello, BB cream!). You might have seen this Asian botanical-infused skincare line in the back of your nearest Sephora. Have you tried it yet? AmorePacific's unassuming packaging is mixed in with Sephora's selection of brands like Philosophy, Lancome, Perricone MD, Dior, Shiseido, and clearly a lot more. So if you missed it, we don't blame you, but it's time this Korean skincare brand was on your radar.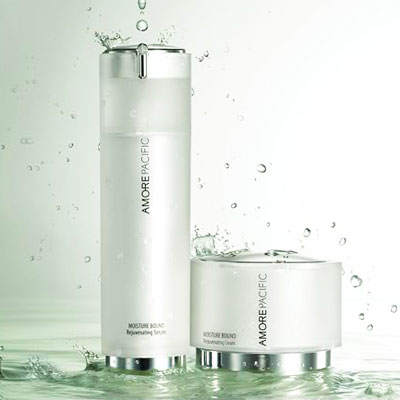 AmorePacific was established over 65 years ago, and it's the third largest corporation in Korea, which is also home to other lofty companies like Samsung, LG and Hyundai. So, yes, AmorePacific is big! As the sixteenth largest cosmetic company worldwide, it has 20 beauty, fragrance and personal care brands in its portfolio including Annick Goutal, Lolita Lempicka and Sulwhasoo. While many of it's other brands - Laneige, IOPE, Mise-en-Scene, etc. - are primarily sold in Korea and other Asian countries, its namesake brand, AmorePacific, is available throughout the US in Sephora, Neiman Marcus, Cos bar and Bergdorf Goodman in stores and online. Plus, you can visit the US flagship in NYC's Soho for facial treatments and you can even try the brand's green tea.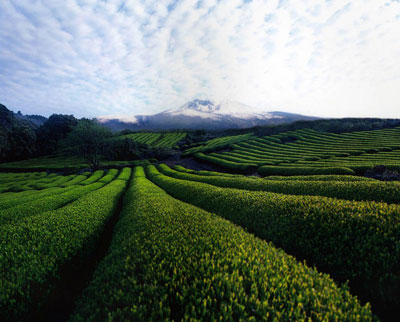 AmorePacific's Halla green tea fields on Jeju Island.
The heart of the brand is based around the powers of Asian botanicals, primarily Halla green tea, red ginseng and bamboo sap. AmorePacific actually harvests its own green tea at the foot of Halla Mountain on Korea's Jeju Island, where the volcanic soil is rich in minerals. The harvest takes place during the spring, when the leaves have the highest content of EGCG, a green tea polyphenol. The seeds are also used for their fatty acid-rich oils that protect the skin. Six-year-old red ginseng has been found to be the best for anti-aging benefits, so it's planted in March and harvested in the fall and aged. Lastly, bamboo sap is used in all of AmorePacific's products because of it's great moisturizing abilities - it's more hydrating than water!
In addition to key ingredients, AmorePacific has a heavy emphasis on science, with over 800 researchers and 120 patents. Everything from peak harvest time to the best way to deliver ingredients to the skin is tested and studied.
AmorePacific's Sulwhasoo is also available in the US through Bergdorf Goodman in store and online. This brand focuses on skincare using Korean herbal medicine. Various medicinal ingredients are processed through different traditional methods. The Basic Line's ingredients like white lily and Satsuma mandarin are matured in honey and then baked for maximum benefits. The Snowise Line bakes logs of the mullberry tree (a great whitening ingredient) in salt water for enhanced clarity. The Timetreasure line uses germinated seeds that go through a specific treatment, since germinated seeds have been long used in traditional medicine.
The Sulwhasoo products have a certain medicinal and almost earthy scent to them, and in certain basic items (like my personal favorite - the cleansing oil) you can catch a subtle whiff of the honey that was used to bake the ingredients. On the other hand, the AmorePacific products have a clean, refreshing scent.
AmorePacific and Korean beauty might still be a little under the radar, but expect these somewhat unknown gems to start making a wave in Western beauty.
Keywords
We're giving away free makeup, haircare, skincare, and fragrance each and every day. No strings attached »