Miss America 2013 Has Oily Eyelids, Chooses to Do Her Own Makeup at Pageants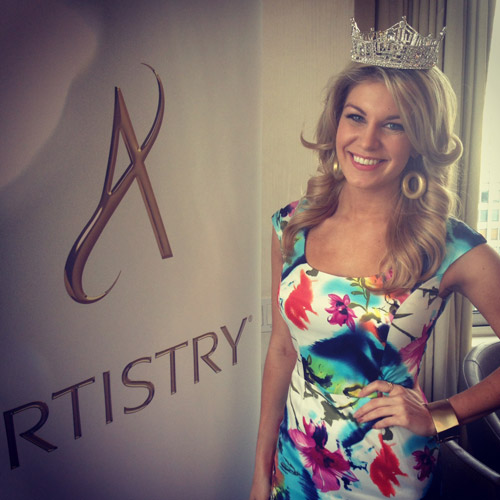 On January 12, Miss New York Mallory Hagan was crowned Miss America 2013 and received a $50,000 scholarship courtesy of Amway. Once the sparkling crown was hers, she was off to do all her fabulous Miss America duties. I met with Mallory a few days after the pageant to chat about what her beauty routine is like at for a pageant and on a daily basis. It turns out that she can get ready in a flash! Read on to see what Mallory had to say.
Klaudia Kaczmarek: What's your beauty routine like?
Mallory Hagan: I think it's really important, especially because now I'm traveling, to take care of my skin. I love Artistry's Renewing Peel. It's something you can use every night. Eight pumps, eight minutes, and you're done. It's great for exfoliating you skin, which is something that I really need because traveling back and forth to different time zones, different climates it's really important for me. I also love their Balancing System right now. So they actually come in a great travel pack, which is great for me because I know I can throw it in my carry on and make sure I have it in case my luggage gets lost. So it's really great because it's all three steps in a little travel pack. I really love their liquid eyeliner because I have the oiliest eyelids. My eyelids are continually transferring. So this eyeliner doesn't budge, and doesn't end up on the top of my eyelid, which is really something that I need. I need long wear makeup because sometimes I have a 14-hour day, so I need to make sure that everything is going to stay.
KK: How long does it take you to look like Miss America every day?
MH: I try to get myself for shower, hair and makeup, about an hour and 15 minutes every morning. That normally wouldn't be my beauty regimen if I wasn't being Miss America every day, but now it's really important that I look like that every day and maintain the same image on a day-to-day basis. Normally, my regimen would be about 45 minutes, just between shower, hair and makeup, but now I take a little longer just to make I am put together as the Miss America brand would like for me to look. You know, so you take a little longer. Plus, you listen to music while you get ready; you jam and take your time. Then, you're more relaxed and are able to start your day in a good way.
KK: What's it like backstage at the Miss America pageant when you're getting ready? Do you have to do your pageant makeup by yourself?
MH: The Miss America organization is sponsored by Artistry, which is really great because now I have $15,000 to continue my education. They do so much for us. But we are allowed to have makeup artists (at the pageant). This year I chose not to. I just wanted to make sure that if I were to win Miss America, you don't get a makeup artist every day, that I could do it on my own. On a daily basis it's up to me so I really wanted to make sure I knew what I was doing and what better way to do that than to practice backstage.
KK: What's the fastest you've gotten ready before a pageant?
MH: Probably about 30 minutes, assuming my hair is dry and ready to go. So I pop my rollers in, do my makeup, take the rollers out and I'm ready. So 30 minutes is probably the minimal time that I can do it. 
Keywords
Get the latest beauty news and inspiration!
Sign up for our newsletter to receive the latest from Beauty Blitz delivered straight to your inbox.