Le Labo is the Freshest Scent on the Block
You don't think twice about buying your milk from the refrigerated section in the grocery store - I mean it would be pretty spoiled if it were kept at room temp. Not that everything has to be refrigerated, but Le Labo ("the lab" in French) is bringing that cooling concept to the fragrance world - and that's a fresh idea!
Last week, I had the honor of meeting Le Labo's co-founder Fabrice Penot (above) at their counter at Barney's, which feels like an oh-so-intimate cove. After noticing how a freshly opened bottle of fragrance smelled slightly off, Fabrice realized the best way to keep the scent perfect upon purchased is to literally make it fresh.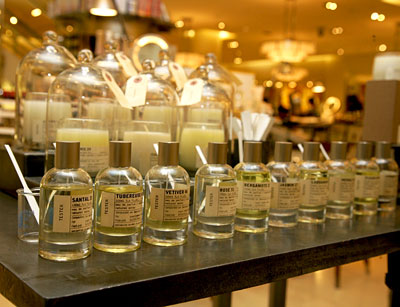 Le Labo carries a line of fragrances, which all have been thoughtfully conceived and carefully blended. "We wanted to create impactful scents that don't exist in the mass market," Fabrice said.
So what makes Le Labo stand out - aside from the unique scents - is the fact that all the fragrances are made to order. They're not custom blends, but you pick from the brand's selection, and it will be made fresh and right before your eyes. The oils are kept refrigerated at the Le Labo counter, so you know they're as crisp as can be and smell exactly as Fabrice imagined them to. So after five to seven minutes, you'll have the freshest bottle of perfume you can buy with a personalized label stamped with the purchase date.
Fabrice gives an unrefrigerated bottle a shelf life of one year, but if you store it in your fridge, it can last up to three years. And if you're now questioning the freshness of those perfume bottles at home, know they should be kept out of the sun and in a cool dry place. So the bathroom (and all the humidity) is definitely not the prime place to display your fragrance collection, nor is a dresser that gets a lot of sunlight during the day.
As for Le Labo's collection of scents, Fabrice was excited for the brand's latest launch, Santal 33, and Barneys own Simon Doonan (above) was on hand spritzing the scent on everyone's wrists. Santal 33 is unisex like the rest of the scents, since Fabrice doesn't believe fragrance should be gender specific. "We focus more on the dry down," Fabrice said. So he encourages you to smell the scent after the top notes dissipate.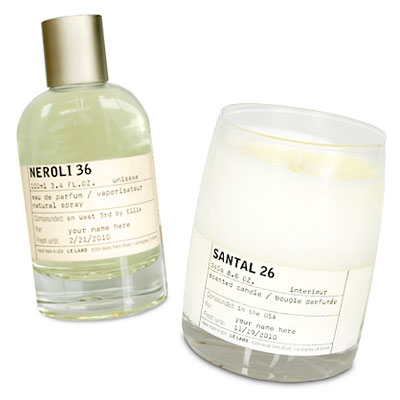 The five-year-old brand has garnered a celebrity following, with Karl Lagerfeld a fan of the Neroli 36 and Ryan Reynolds opting for the more sensual Patchouli 24. Jennifer Lopez stocks up on Le Labo's scented candle in Santal 26, a rich leathery scent. I'm personally obsessed with the Calone 17 candle, which has light and airy notes perfect for welcoming warmer weather.
Keywords
We're giving away free makeup, haircare, skincare, and fragrance each and every day. No strings attached »