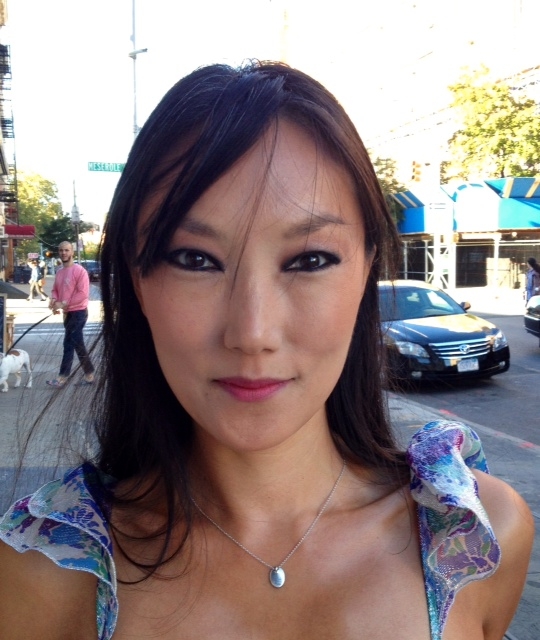 Jane Kirby began working as a Contributing Editor at Beauty Blitz in December 2011. Jane got her start in the fashion and beauty working with designer Stephen Sprouse, then as beauty sittings assistant at Mademoiselle. She went on to work at Marie Claire, Cosmopolitan and Modern Bride. Jane is also a freelance illustrator.
I lost my beauty virginity to...Bonne Bell cosmetics kit for children in the 80s.  It came with a very watered down perfume, the cutest mini lipsticks and fake nail polish. The nail polish was especially fun because you could wear it, feel like a proper little lady and then go back to your kid antics and peel it off!
My signature beauty look: a strong nod to the 70's black cat eye, but hopefully well married with a modern sapphire smokey eye. This is paired with a hint of a fuchsia lip stain.  For hair, I keep it a Jane Birkin inspired long brunette and vacillate between bangs in the eyes and no bangs.
My most regrettable look: Throughout high school, for a special treat, my mom and I would go to Vidal Sassoon for hair cuts. My senior year, I decided to emulate Linda Evangelista's phenomenal shorn coif.  The result was nowhere near the "I don't wake up for less than $10,000 a day" look. On me, it was: weirdo having an unfortunate hair day. I still love beauty risks, but choose ones with less semi-permanent consequences.
The product I always have with me: A small tube of Vaseline because my beauty routine goes from polar opposites depending on on the day.Some days, I have as much makeup piled on as humanly possible. The next, I'll have no makeup at all. Vaseline is great, because it's affordable and has a great variety of uses: preventing dry lips, taming my furry eyebrows, smoothing frizzy hairs and smudging eyeliner.
When I'm not playing with beauty products, I'm...pen palling with my awesome 94 year old grandmother who lives in NZ. I'm attempting to learn the moves of "the robot" dance. And for kareoke purposes, I'm trying to learn the lyrics to my boyfriend's all-time favorite album The Beastie Boys "Paul's Boutique." Last but not least, I'm forever cleaning up my messy desk so that I don't end up on the next episode of "Hoarders."
Get the latest beauty news and inspiration!
Sign up for our newsletter to receive the latest from Beauty Blitz delivered straight to your inbox.